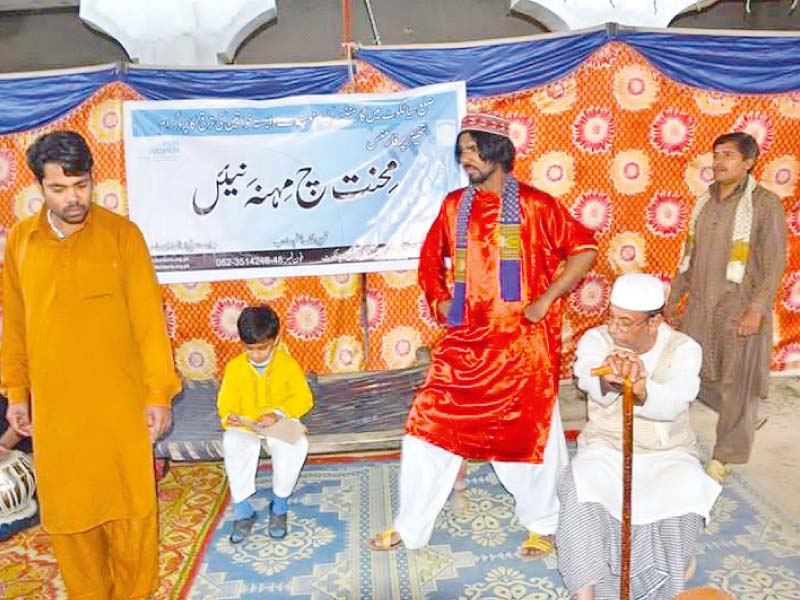 ---
LAHORE: With the aim to sensitise the rural community about women's economic independence, the Azad Theatre staged a series of street performances in various villages of Sialkot district.

The performances were staged at Jaurian Khurd, Smabrial, KotGoindkay, Kot Mandiyanwala and Hundel villages on February 15 and 16.

Azad Theatre's Executive Director Malik Aslam, while talking to The Express Tribune, said his group came up with the idea to stage performances on women empowerment in Sialkot. He added a significant number of women in the district were involved in sewing footballs for the city's sports factories.

The process that has now been mechanised, leaving a lot of women jobless, he added.

"It was and still is very important for these women to be able to earn and help their household financially. However, given the social norms, many families do not allow their female members to step out of the house and earn," Aslam explained.

This culture of not letting women out of the house to earn still persists despite the economic hardships these families face, he said. The director said that keeping these issues in the backdrop, a 10-member team staged performances on stories which such cultural norms.

"Through these street performances, we tried to educate local women on ways to give themselves and their children a better lifestyle," he said.

"In most cases, poor living is only a matter of choice rather than circumstances," Aslam added.

According to him, they developed a story around two families with contrasting living conditions - where one of the family goes through economic hardships, while the other one leads a stable lifestyle only because both the husband and wife chose to work and contribute towards daily expenses.

"We also used religious references in favour of working women, along with educating people about a recently approved bill that can penalise violence and sexual harassment against women at workplaces," he mentioned.

Aslam said that given the rural set-up and nature of issues under consideration, the audience were very interactive and even came up with their subjective opinions and slight disagreements at some point. However, the overall response was very welcoming.

"We also initially faced resistance in some villages, but later on since we managed to explain why and what we intend to do, we were allowed by village elders to perform publicly,"Aslam said, adding that his theatre company has decided to continue taking their message and performances to other villages as well.

"It is extremely important to focus on rural areas when it comes to issues of women empowerment," he said.

Published in The Express Tribune, February 20th, 2017.
COMMENTS
Comments are moderated and generally will be posted if they are on-topic and not abusive.
For more information, please see our Comments FAQ