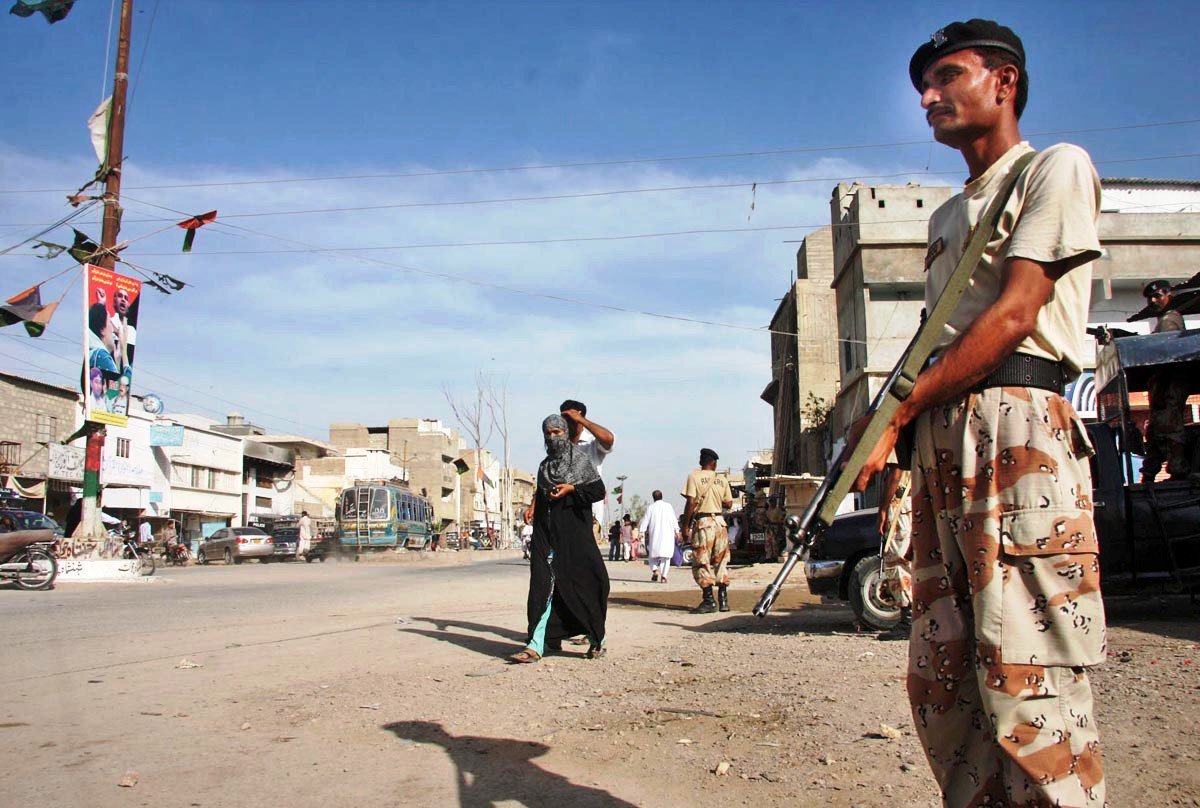 ---
KARACHI: Orangi Town turned into a battleground on Sunday when hundreds of residents of the locality clashed with the police while protesting the increase in street crimes and robberies in the neighbourhood.

Half a dozen protesters were also wounded during the clash when the police fired tear gas shells and began aerial firing to disperse the protesters. Residents of Orangi Town had gathered at Islam Chowk in Iqbal Market area Sunday afternoon to stage their protest. They also shouted slogans against the police. "They [police] are also involved. They are supporting the criminals to earn money from the looted valuables," accused Kashif Naeem, one of the protesters.

Karachi's Orangi Town named largest slum in the world

The situation turned violent when the police attempted to disperse the protesters. "We were not even able to stage a protest as before we could start a proper protest the police started firing tear gas shells at us and charged us with their batons," lamented protester Izharul Islam. "Are we terrorists? What was our crime?" he asked. "The criminals are looting us and the police, instead of taking action against criminals, are taking action against us."

The protesters attacked the police by throwing stones at them, injuring half a dozen cops. A few police mobiles were also damaged.

Extra contingents of police were called to the site to disperse the protesters as the hide and seek between police and protesters continued for hours.

'Karachi among five most polluted cities in the world'

Armoured personnel carriers (APCs) were also called in to participate in the police action. The police also arrested nearly a dozen suspects for attacking the police and disrupting law and order.

Police officials said the protesters took the law into their own hands, causing the law enforcers to take action against them as they beat up four cops, accusing them of being involved in street crime.

"They [protesters] did not approach the police about any issue with them before holding the protest," said District West police chief SSP Nasir Aftab. "Instead of visiting the police station to register their complaints, they started attacking the police in the name of protest," he alleged.

The situation remained tense in the area as the clash between police and protesters continued till the filing of this story.

Protesters booked

Police have registered a case against more than 250 people for protesting against the rising incidents of crime within their locality. The case was registered on behalf of the state. Interestingly, police also placed section 7 of the Anti Terrorism Act (ATA) clause in the case registered.

In the FIR, we have nominated 31 suspects while 9 others have been arrested, said Orangi divison SP Hassan Sardar, efforts are being made to arrest the remaining suspects.

Published in The Express Tribune, February 20th, 2017.
COMMENTS
Comments are moderated and generally will be posted if they are on-topic and not abusive.
For more information, please see our Comments FAQ