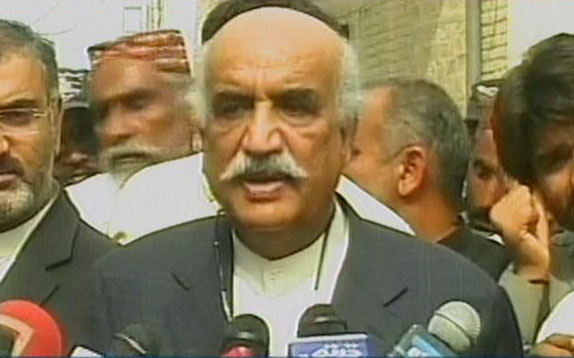 ---
Leader of the Opposition in National Assembly Khurshid Shah has called on the federal government to initiate a crackdown against banned outfits in Punjab and "eliminate their nurseries."

"There are nurseries of proscribed organisations in Punjab that, if not acted against, will cause further deterioration of law and order," Shah said while talking to the media in Sukkur on Sunday.

"Neighbouring countries do not want to see a stable Pakistan taking shape and want it to remain under the shadows of hunger and fear," the veteran Pakistan People's Party (PPP) leader said.

Rangers to assist Punjab Police in counterterrorism operations, security huddle decides

The opposition leader also criticised the federal government for "coming to terms with proscribed organisations and encouraging them."

He was apparently referring to interior minister Chaudhry Nisar's remarks on January 17, wherein the latter defended his meeting with Ahle Sunnat Wal Jamaat (ASWJ) leader Ahmad Ludhianvi, saying "it was unfair to link everything to him."

Shah said that the issue of terrorism-related also with the country's foreign policy, saying there was a need to improve it on the global front. "Pakistan's neighbouring countries are afraid of its stability, development and investment opportunities it is attracting."

Those fuelling anger over Sehwan tragedy accomplices of terrorists: Sindh CM

He reiterated that the "National Action Plan (NAP) is not being fully implemented as was admitted by the premier himself."

"Certain elements are spreading fear to prevent people from leaving their homes and going to schools, colleges, hospitals and places of worship."

More than 100 people lost their lives in terrorist attacks in Sehwan and Lahore during the last few days, disrupting law and order and spreading panic.
COMMENTS (1)
Comments are moderated and generally will be posted if they are on-topic and not abusive.
For more information, please see our Comments FAQ