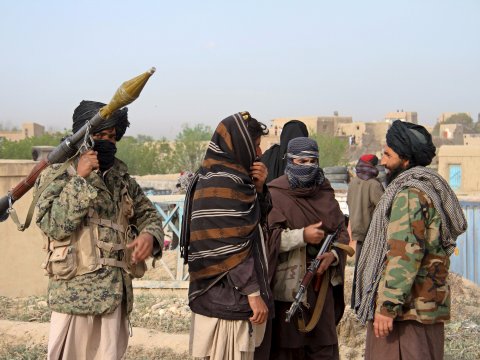 ---
ISLAMABAD: Nearly a dozen training camps and hideouts of terrorist groups have been destroyed and over a dozen terrorists – including a top trainer of suicide bombers – have been killed in two days of artillery shelling by Pakistan's military, Afghan sources confirmed on Saturday.

The confirmation came hours after Kabul summoned Pakistan's ambassador to lodge a protest over what it called 'cross-border rocket firing'. A day earlier, sources said four training compounds of the outlawed Jamaatul Ahrar (JuA) terrorist group had been decimated in the areas opposite Mohmand and Khyber agencies.

According to Afghan sources, 10 to 12 training camps and hideouts of the JuA and Tehreek-e-Taliban Pakistan (TTP) – including that of JuA commander Wali – and ammunition dumps have been destroyed in the blitz. "Fifteen to 20 terrorists, among them Commander Rehman Baba, have been killed and many more injured," one Afghan source added.

Army decimates four Jamaatul Ahrar camps

Rehman Baba, a high-value target, was responsible for training suicide bombers and young terrorists. Sources said on Friday that four JuA terrorist camps – including one run by the group's deputy chief Adil Bacha – had been decimated.

The outlawed TTP and its breakaway faction JuA have set up 'safe havens' across the border in Afghanistan which they use as a springboard for launching attacks inside Pakistan. The two groups have been behind most terrorist attacks in the country.

The security situation along the Pak-Afghan border in Khyber Agency remains fluid. An official of the local political administration said as many as 4,000 tribesmen living in the Shinpokh and Samsay villages of Shalman have been asked to evacuate. A day earlier 400 households in the Samsai area had been evacuated amid a military operation in the villages near the border with Afghanistan.

Meanwhile, fresh contingents of security forces have reached the bordering areas of Shalman, Rena and Parchao.

Pakistan shuts down border with Afghanistan

Pakistan shut the main Torkham border crossing with Afghanistan following a string of deadly attacks, including Thursday's suicide bombing at the shrine of Sufi saint Lal Shahbaz Qalandar, in the country last week.

Long queues of container trucks were stranded on both sides of the border as transit trade between the two countries remained suspended due to their strained relations. Movement of people to and from Afghanistan is not allowed. However, border guards and political administration allow the transportation of corpses and bereaved families as a goodwill gesture.
COMMENTS (1)
Comments are moderated and generally will be posted if they are on-topic and not abusive.
For more information, please see our Comments FAQ