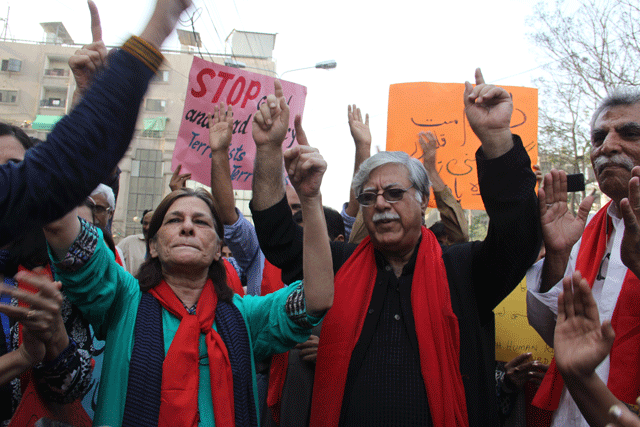 ---
KARACHI: We won't allow terrorists to take away our smiles, said Asad Iqbal Butt, the vice-chairperson of Human Rights Commission of Pakistan, as a large number of activists performed dhamal to the tune of 'Dama Dam Mast Qalandar'.

Members of civil society had gathered outside Karachi Press Club on Saturday. They performed dhamal to express solidarity with the Sufi culture and the 88 devotees who died in the deadly bombing at Lal Shahbaz Qalandar's shrine in Sehwan Sharif on Thursday.

In solidarity: Lawyers boycott courts to protest Sehwan attack

Talking to The Express Tribune, Butt asserted that they won't allow terrorists to deprive them of happiness. He added that the people of this country are strong enough and that their resolve to uphold their culture will never lessen.

"These coward and inhuman people cannot divide us," said Butt, referring to those responsible for the recent wave of terrorism in the country.

The protesters shouted slogans against terrorism and demanded of the government to take stern action against the culprits and their supporters. They raised the slogan, 'Dam mast Qalandar, Jhoolay Lal', at the demonstration.

Body parts of Sehwan terror victims 'found dumped in garbage'

Mehnaz Rehman of Aurat Foundation stressed that dhamal is a part of our culture. She added that terrorists are no one to decide about the lives of those who perform it.

According to her, the recent bomb blast is one of the most tragic incidents of terrorism aimed at destroying the Sufi fabric of Sindh. She stressed the government should revisit National Action Plan (NAP).

A trade unionist, Zehra Khan, remarked that the state will have to change its narrative in order to make Pakistan a peaceful place to live in. "If the government knows the operating grounds of these terrorists, why doesn't it stop them?" she questioned.

Pakistan Institute of Labour and Education executive director Karamat Ali was of the view that the participation of people in a demonstration against the terrorists reflects that we are against terrorism and extremism.

Social media questions PPP govt's inadequacy after Sehwan blast

He urged upon the people to be united against militants. "They cannot impose fundamentalist ideology against the will of the people," said Ali.

A student leader and one of the organisers of the protest, Naghma Iqtidar, told The Express Tribune that it's high time to promote the culture of Sindh, which is based on interfaith harmony and peace.

"On whose hands do we find the blood of thousands of innocent people who have died in terrorist activities?" asked Iqtidar.

She further demanded of the state to fulfil its responsibility of protecting the citizens of the country.