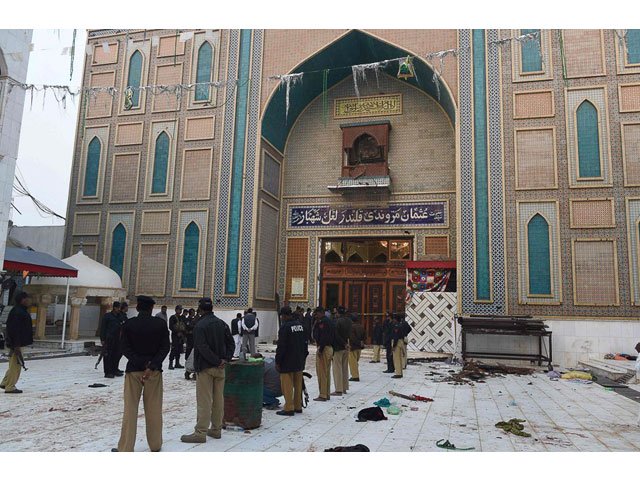 ---
HYDERABAD: In a startling disclosure, body parts of some of those killed in the attack on Lal Shahbaz Qalandar's shrine in Sehwan were allegedly found dumped in the garbage on Saturday.

A few parts of limbs of those deceased were found, causing an outrage among the residents and social media users. At least 88 people were killed when a suicide bomber struck the shrine on Thursday.

Social media questions PPP govt's inadequacy after Sehwan blast

The authorities allegedly removed the body parts, which also included few bunches of hair. "We sent our staff to the site but found nothing," claimed municipal official Syed Asif Shah while talking to The Express Tribune. However, the official, believed to be under pressure, suspended two of his sanitary assistants.

Shah maintained that the footage might have shown burnt pigeons as hundreds of pigeons in the dome also died in the attack.

The official also said that the shrine did not fall within the municipality's jurisdiction but their staff alongside Auqaf department, volunteers from Edhi Foundation and other organisations moved body parts from the shrine to Sehwan taluka hospital.

Sehwan attack: The best friends who faced death hand in hand

On the other hand, Edhi Foundation's regional in-charge Mairaj Ahmed said that the foundation did receive a letter on Saturday afternoon from the medical superintendent of the taluka hospital to shift some body parts to Karachi.

The limbs include hands, feet, chest and other organs, weighing around seven to eight kilogrammes, he added.

"These can be of 10 persons or 20 persons or more. We aren't sure," he said. The limbs will be kept in the foundation's cold storage at Sohrab Goth for eight days, after which they will be buried.

The Auqaf officials could not be reached for their version on this development.

'My heart is saddened'

Chief Minister Sindh Murad Ali Shah said about the alleged discovery. "My heart is saddened," Shah said and warned the district and municipal administration of Jamshoro that "they will be in trouble [if responsible]."

Directing Commissioner Hyderabad Qazi Shahid Pervez to run an inquiry of the incident, Shah said whoever responsible for the negligence will be brought to book.

Commissioner Hyderabad could not be contacted for his version about the inquiry.

Meanwhile, director general health Dr Hassan Murad said that 86 of 88 bodies were handed over to their heirs whereas two unidentified bodies shifted to Edhi's morgue. The body parts from the shrine were sent to Edhi centre Karachi following DNA sampling.

As many as 61 people injured in the explosion are still hospitalised.
COMMENTS (4)
Comments are moderated and generally will be posted if they are on-topic and not abusive.
For more information, please see our Comments FAQ