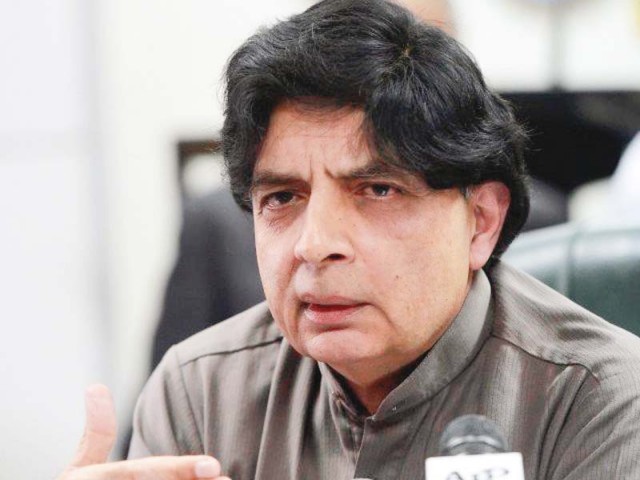 ---
The recent spate of terrorism will be tackled with full might, said Interior minister Chaudhry Nisar, adding Pakistan's security will be ensured at all costs.

"Terrorists made an organised effort to disrupt the law and order situation but their nefarious designs will not succeed," the minister said. "Foreign elements and [intelligence] agencies were involved in these incidents."

More than 100 people lost their lives when terrorists struck public places in Sindh's Sehwan and Lahore's Charing Cross. Responsibility for the incident was later accepted by the Jamaat-ul-Ahrar faction of the outlawed Tehreek-e-Taliban Pakistan (TTP).

Crackdown continues: 92 suspects rounded up across Punjab

But let me tell you that those targeting innocent civilians will be dealt with iron hands, Nisar said. "We have a renewed pledge to crush terrorists and are not afraid of them at all."

The recent incidents have made it clear that terrorists use Afghan refugees as facilitators for their acts. "Arrests have been made in this connection from Attock, Huzro and Taxila."

Nisar praised the law enforcement agencies that "pointed out terrorists and their facilitators in a time span of 24 hours."

He also hit out at those "criticising the government while trying to hide their own criminal ineligibility [to maintain law and order]."

"There should not have been point scoring on incidents of serious and sensitive nature," Nisar said while responding to his political arch-rivals. Pakistan Tehreek-e-Insaf (PTI) chairman Imran Khan's recently said that non-implementation of National Action Plan (NAP) had led to the attacks.

Bloodbath at Sehwan shrine

Nisar also questioned if the federal and not the provincial government was responsible to provide security in Sehwan and avert the attack.

He urged the nation to unite at such a critical juncture as they did following the attack on Army Public School (APS) in 2014.

"Our ambition to overcome terrorism and unity will help defeat anti-state elements," he remarked.
COMMENTS (8)
Comments are moderated and generally will be posted if they are on-topic and not abusive.
For more information, please see our Comments FAQ