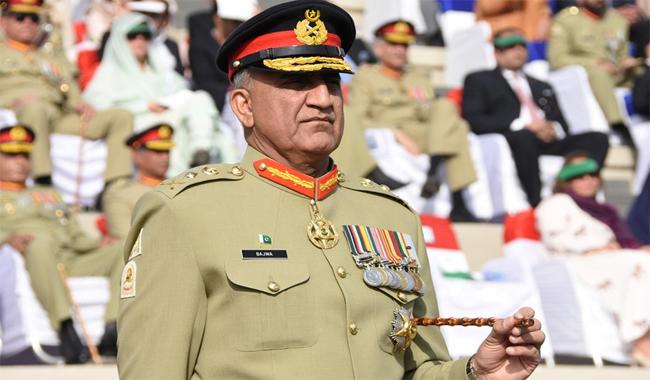 ---
ISLAMABAD: Pakistan has long been pushing Afghanistan to take decisive action against hideouts of the banned Tehreek-e-Taliban Pakistan (TTP) and its breakaway faction Jamaatul Ahrar.

Despite the Ashraf Ghani administration's inaction against terrorist sanctuaries and its campaign to implicate Pakistan in every single terrorist incident in Afghanistan, Islamabad continued to show restraint. But patience with Afghanistan finally ran out in the wake of Thursday's dastardly terrorist attack at the shrine of Lal Shahbaz Qalandar in Sehwan.

Barely 15 hours after the attack, in an unprecedented move, senior Afghan Embassy officials were summoned to the General Headquarters (GHQ) in Rawalpindi on Friday and were given a list of 76 terrorists which Pakistan believes are hiding in Afghanistan. The military's media wing said Afghanistan had been asked to take immediate action against those terrorists or hand them over to Pakistan.

Afghan president condoles with PM

The splinter group of TTP, Pakistan says, is operating out of Afghanistan. The involvement of the Jamaatul Ahrar in recent attacks compelled Pakistan's military authorities to step up pressure on the Afghan government.

Reacting to the deadly Sehwan Sharif attack, army chief General Qamar Javed Bajwa on Thursday pledged that every drop of Pakistani blood would be avenged immediately and that the country would no longer show restraint towards anyone.

On Friday, Gen Qamar told the top US commander in Afghanistan that Kabul's inaction against terrorists who carry out attacks on Pakistan from safe havens in the war-torn country is testing Islamabad's policy of cross-border restraint.

"Most of the [terrorist] incidents in Pakistan are claimed by terrorist organisations with leadership hiding in Afghanistan," the military's top spokesman quoted Gen Qamar as telling Gen John Nicholson, the commander of the Resolute Support Mission, in a telephone conversation.




Expressing concerns over the continued acts of terrorism in Pakistan with impunity from Afghanistan, the army chief told the US general that "such terrorist activities and inaction against them are testing our current policy of cross-border restraint," Inter-Service Public Relations (ISPR) Director General Maj Gen Asif Ghafoor said.

Gen Qamar asked Gen Nicholson to "play his role in disconnecting this planning, direction, coordination and financial support," the ISPR DG added.

According to Maj Gen Ghafoor, the army chief also informed the US commander about the list of terrorists hiding in Afghanistan which Islamabad has handed to Afghan authorities for action. Gen Nicholson, in turn, assured Gen Qamar that the Resolute Support Mission will "play its role to stop use of Afghan soil for terrorist attacks in Pakistan," the military spokesman tweeted.

Nicholson shared his plans to undertake special coordination at appropriate level between the Resolute Support Mission, Afghanistan's security forces and Pakistan. He also expressed his condolences at the loss of precious lives in recent terrorist incidents in Pakistan.

Pakistan shares proof of terror launch-pads in Afghanistan

While Afghanistan and the US were asked to take action against anti-Pakistan terrorists, Prime Minister's Advisor on Foreign Affairs Sartaj Aziz also talked on phone with Afghan National Security Adviser Hanif Atmar.

According to the Foreign Office, Aziz in this telephone conversation stressed that the government and the people of Pakistan were in a state of deep anguish and pain at the recent terrorist incidents in various parts of the country resulting in the loss of precious human lives. He conveyed to the Afghan National Security Adviser that Jamaatul Ahrar was behind these barbaric acts of terrorism.

He expressed serious concern that Jamaatul Ahrar continued to operate from its sanctuaries and safe havens in Afghanistan against Pakistan and the government in Kabul had not paid a heed to Islamabad's repeated calls for action against the group.

"In this regard, Pakistan has shared a list of suspected Jamaatul Ahrar terrorists with the government of Afghanistan for action against them," Aziz was quoted as saying by the Foreign Office.

Aziz underscored that terrorism was a common threat and its elimination required close cooperation. He said it was important that Afghan government should take strong action against such elements to reaffirm that its soil was not used for terrorism in Pakistan. He emphasised that cooperation between Afghanistan and Pakistan was vital for effectively combating the scourge of terrorism. In this regard, effective border management was required to prevent the movement of terrorist elements across the border.

Pakistan shuts down border with Afghanistan

Meanwhile, security forces killed over 100 terrorists in a major crackdown ordered by the army chief soon after the Sehwan Sharif attack. ISPR said intelligence-based operations and combing operations were in progress across the country, including Punjab.

"Over 100 terrorists have been killed since last night and sizeable apprehensions also made," the statement said. It also said intelligence agencies were making progress to unearth networks behind recent terrorist incidents. "There are linkages of support for these incidents from across the border," the military's media wing said.

Hours after the Sehwan Sharif attack, Pakistan shut down the border with Afghanistan because of security reasons. The army said no cross-border and unauthorised entry will be allowed to Pakistan from Afghanistan. "Security forces have been given special orders in this regard to have strict watch all along the border."

Maj Gen Ghafoor said terrorists' hideouts on Pak-Afghan Border had been effectively targeted. He quoted the army chief as saying that terrorists would be targeted ruthlessly, indiscriminately, anywhere and everywhere. "Army is for security of the people of Pakistan against all types of threat. Nation to stay steadfast with full confidence in their security forces. We shall not let the hostile agenda succeed whatever it may cost," Gen Qamar said.

Published in The Express Tribune, February 18th, 2017.