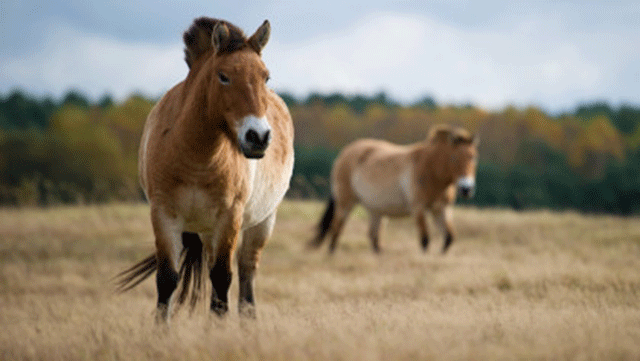 ---
ISLAMABAD: Pakistan is apparently relying on 'horse diplomacy' in a bid to cement its bilateral relations with different countries in the Middle East, where arch rival India has been gaining more influence since Pakistan's refusal to commit troops in the ongoing war in Yemen.

After presenting a horse to the Emir of Qatar last month, the federal government has approved a request by Punjab government to present six animals including Arabian horses to Abu Dhabi's Crown Prince Sheikh Muhammad Bin Zayed Al Nahyan on behalf of Punjab Chief Minister Shahbaz Sharif.

In a letter – available with The Express Tribune – Punjab government had earlier expressed it desire to present two Arabian horses (stallions), two Sahiwal cattle (one cow and one bull) and two camels (one male and one female) to Al Nahyan as a gift.

Playing the diplomatic card smoothly

Requesting for a no objection certificate (NOC) for export of these animals, Punjab had told the Centre that the gift was aimed at improving ties with the United Arab Emirates (UAE), where a large number of Pakistanis worked in different fields and sent remittances each year.

Last month, the defence ministry had also approached the Economic Coordination Committee (ECC) of the Cabinet to grant a special exemption for export of a horse and for issuance of the Export and Quarantine Certificate by the authority concerned on a priority basis.

According to the ministry, the General Headquarters (GHQ) had proposed to present the horse on behalf of Chief of Army Staff (COAS) General Qamar Javed Bajwa to Qatar's Emir Sheikh Tamim bin Hamad al Thani.

The ministry had told the ECC that the Pakistan Army bred high quality horses which were used for operational, recreational and ceremonial purposes. These horses were presented to friendly states as a goodwill gesture.

Diplomatic setbacks and realignment

"In this regard, the GHQ has proposed to present one horse on behalf of the COAS to the Emir of Qatar as gift," the ministry had said, adding that the Animal Husbandry Commissioner and the Ministry of National Food Security had intimated it about a ban on export of live animals imposed by the ECC.

According to the revised Export Policy Order, such exemptions are granted by the prime minister on the recommendations of the ministry of commerce. Considering the summary submitted by defence ministry, the ECC had recommended special exemption for export of the horse. It had directed the ministry of commerce to submit a case for approval of the prime minister through the ministry.

Published in The Express Tribune, February 18th, 2017.
COMMENTS
Comments are moderated and generally will be posted if they are on-topic and not abusive.
For more information, please see our Comments FAQ