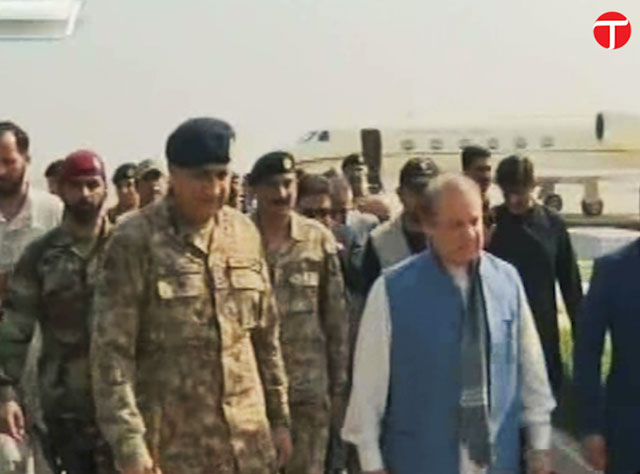 ---
Prime Minister Nawaz Sharif and army chief General Qamar Javed Bajwa visited Sehwan on Friday the death toll of Thursday's blast at Sufi saint Lal Shahbaz Qalandar's shrine rose to 88.

They were were accompanied by Finance Minister Ishaq Dar, National Security Adviser Nasir Khan Janjua and other senior civil-military officials.


#COAS visited Nawab Shah & Sehwan. Met injured. Terrorists will be targeted ruthlessly,indiscriminately, anywhere and everywhere. No let up. pic.twitter.com/ZzJMepJMDo

— DG ISPR (@OfficialDGISPR) February 17, 2017


"COAS visited Nawabshah and Sehwan. Met the injured. Terrorists will be targeted ruthlessly,indiscriminately, anywhere and everywhere. No let up," the ISPR said in a statement.

Meanwhile, the premier chaired a security meeting in Sehwan, where he was given a detailed briefing on the current security situation and relief activities.

He directed the country's armed forces and law enforcement agencies (LEAs) to eliminate terrorists across the country will full force, according to Radio Pakistan. "It is time for us to unite and fight against the internal and external terrorists," he said.

Their visit came in wake of Thursday's grisly terror attack at the Sufi saint's shrine which left at least 88 people dead while injuring over 200.

The deadly attack was reminiscent of a near-identical bombing at Dargah Shah Noorani, in Khuzdar district of Balochistan, in November last year.

Bloodbath at Sehwan shrine

Lal Shahbaz Qalander is one of the country's most revered shrines, dedicated to a 13th-century saint whose spirit is invoked by devotees in ecstatic daily dancing and singing rituals in Sehwan Sharif. However, most of the country's myriad radical militant groups despise Sufis and other religious minorities as heretics.

The Islamic State, the Middle East-based militant group which has a small but increasingly prominent presence in Pakistan, claimed responsibility for the attack, the group's affiliated news agency AMAQ reported.

Pakistan has seen a dramatic improvement in security in the past two years, but there have been multiple attacks this week. The country has seen an upsurge in terrorist violence over the past few days, with bombers striking in Lahore, Peshawar, Mohmand Agency, and now in Sindh.

The assaults underscore Pakistan's struggle to stamp out extremism, which was stepped up after the country's deadliest ever attack, a Tehreek-e-Taliban Pakistan assault on Army Public School in Peshawar in 2014 which left more than 150 people dead — mostly children.
COMMENTS (4)
Comments are moderated and generally will be posted if they are on-topic and not abusive.
For more information, please see our Comments FAQ