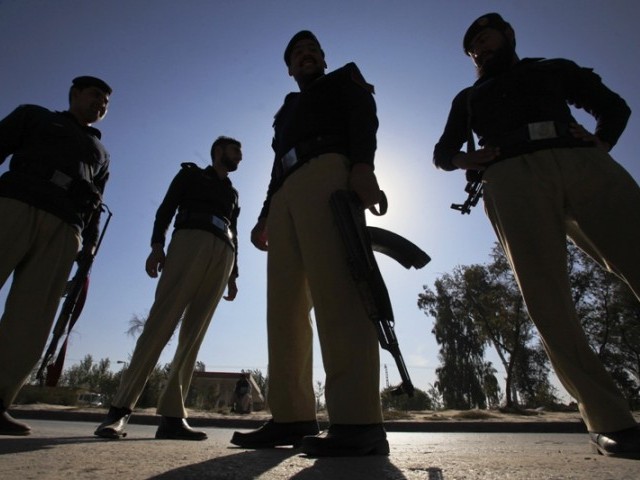 ---
LAHORE: The Counter-Terrorism Department (CTD) of Punjab police raided a militant hideout and killed six suspected members of a Taliban faction that has launched a new campaign of violence in the country, police said on Thursday.

Since Monday, several bomb attacks across the country have shattered a period of improving security, underscoring how militant groups still pose a threat to the nation.

The CTD said its officers surrounded a hideout of the proscribed Tehreek-e-Taliban Pakistan (TTP)'s Jamaatul Ahrar faction in Multan late on Wednesday and ordered the suspects inside to surrender.

"But the terrorists started firing at the raiding party and threw explosives," a spokesperson for the department, who the unit does not identify for security reasons, said in a statement.

Top police officials among 13 killed in Lahore suicide attack

Six militants were killed while three or four escaped under cover of darkness, the department added. Two hand grenades, two automatic rifles and two pistols were recovered.

Police acted after getting information that the militants were planning to launch attacks on "vital installations" in the area.

The TTP faction claimed responsibility for a suicide bomb attack near the Punjab Assembly in Lahore on Monday that killed 15 people and wounded more than 80.

The Jamaatul Ahrar said the attack was the beginning of a new campaign of violence against the government, security forces, the judiciary and secular political parties.

Since then, militants have killed two bomb-disposal officers in Quetta and a suicide bomber blew himself up outside a government office near Peshawar on Wednesday, killing five people. Also on Wednesday, a suicide bomber on a motor bike attacked a group of judges in a van in Peshawar, killing their driver.

The attacks have underlined the threat militants pose to the government of Prime Minister Nawaz Sharif despite military operation Zarb-e-Azb launched in 2014 to push them out of their strongholds near the Afghan border.

Lahore put on terror alert

The Foreign Office said it had summoned Syed Abdul Nasir Yousafi, deputy head of mission at Afghanistan's embassy in Islamabad, on Wednesday to voice concern about Jamaatul Ahrar "sanctuaries" in Afghanistan.

The government says militants launch attacks from the Afghan side of the border. "Afghanistan was urged to take urgent measures to eliminate the terrorists and their sanctuaries, financiers and handlers," the FO said in a statement.