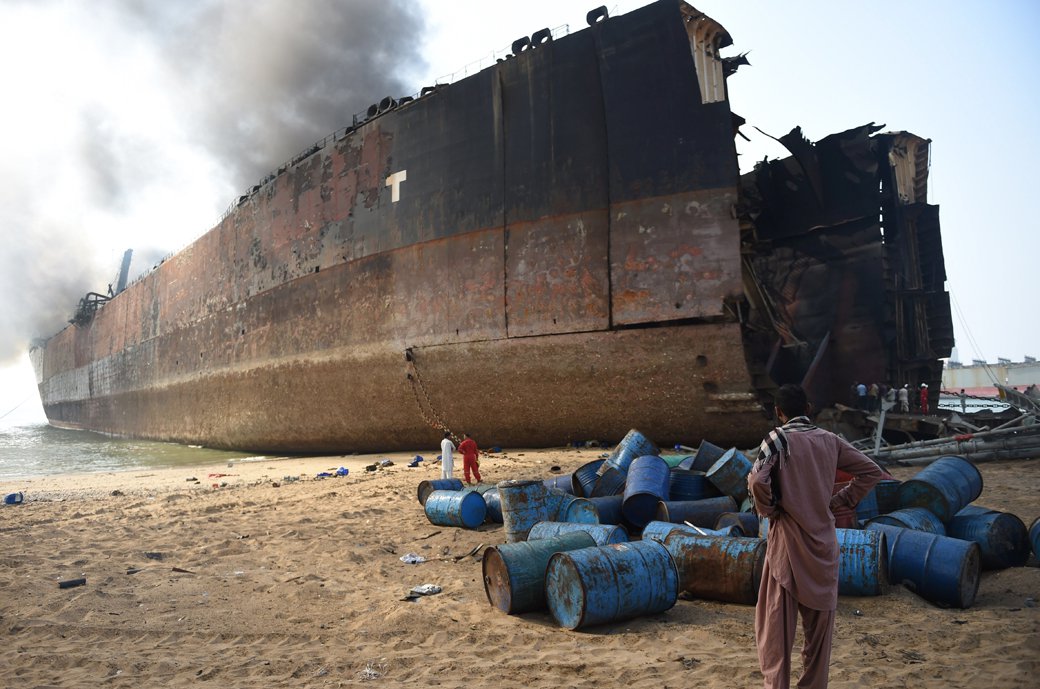 ---
KARACHI: Almost all the deceased victims of the Gadani oil tanker tragedy have been paid compensation by the ship-breaking yard owners but the government has yet to contribute its part, Ship-breaking Mazdoor Union president Bashir Mehmoodani told The Express Tribune on Wednesday.

Twenty-six people were killed, more than 50 were injured, and four went missing when a fire, preceded by several blasts, ripped through a decommissioned oil tanker, MT Aces, moored at plot no. 54 at the Gadani ship-breaking yard on November 1, 2016.

Families of Gadani tragedy continue search for loved ones

"Among the dead, 24 families have been paid Rs1.1 million each by the committee formed to oversee the compensation disbursement matter in recent days," said Mehmoodani, adding that cases of the remaining two victims are pending because one family does not have complete documents and the other has not been identified yet.

Among the four missing, the families of two victims have been given similar amount while the cases of the remaining two are being considered differently due to family matters. "One of them married twice and has children from both wives. That's why we have sought opinion from religious and legal experts on how to divide the amount," said Mehmoodani.

The total compensation is estimated to be Rs2 million to each victim. Beside the Rs1.1 million paid, Rs400,000 will be delivered through the commissioner of compensation and the remaining Rs500,000 will be given by the Balochistan government as a death grant.

The labour leader said that the amount has been deposited with the compensation commissioner and will be disbursed among the victims in coming days. About the death grant, he appeared pessimistic, saying that the cases of around 60 workers have already been pending with the government for years.

"The [Balochistan] government must take notice of the situation the workers' families have been going through and pay the death grant immediately," demanded Mehmoodani, adding that the ship-breaking yard owners have fully paid their contribution.

The list of people being paid compensation, available with The Express Tribune, read that eight of them were from Dir region in Khyber-Pakhtunkhwa, six from Gadani, five from Pakpattan and one each from Swat, Abbottabad, Jehlum and Karachi.

Those who were injured in the incident are being given a different compensation amount. "Those who were badly injured have been given Rs100,000 while others with low intensity wounds are being given a lesser amount. So far 19 people in this category have been given compensation," he added.

The victims of other incidents that occurred later have yet to receive any compensation and their cases are being advocated with the ship-breakers and authorities, said Mehmoodani.

Published in The Express Tribune, February 16th, 2017.
COMMENTS
Comments are moderated and generally will be posted if they are on-topic and not abusive.
For more information, please see our Comments FAQ