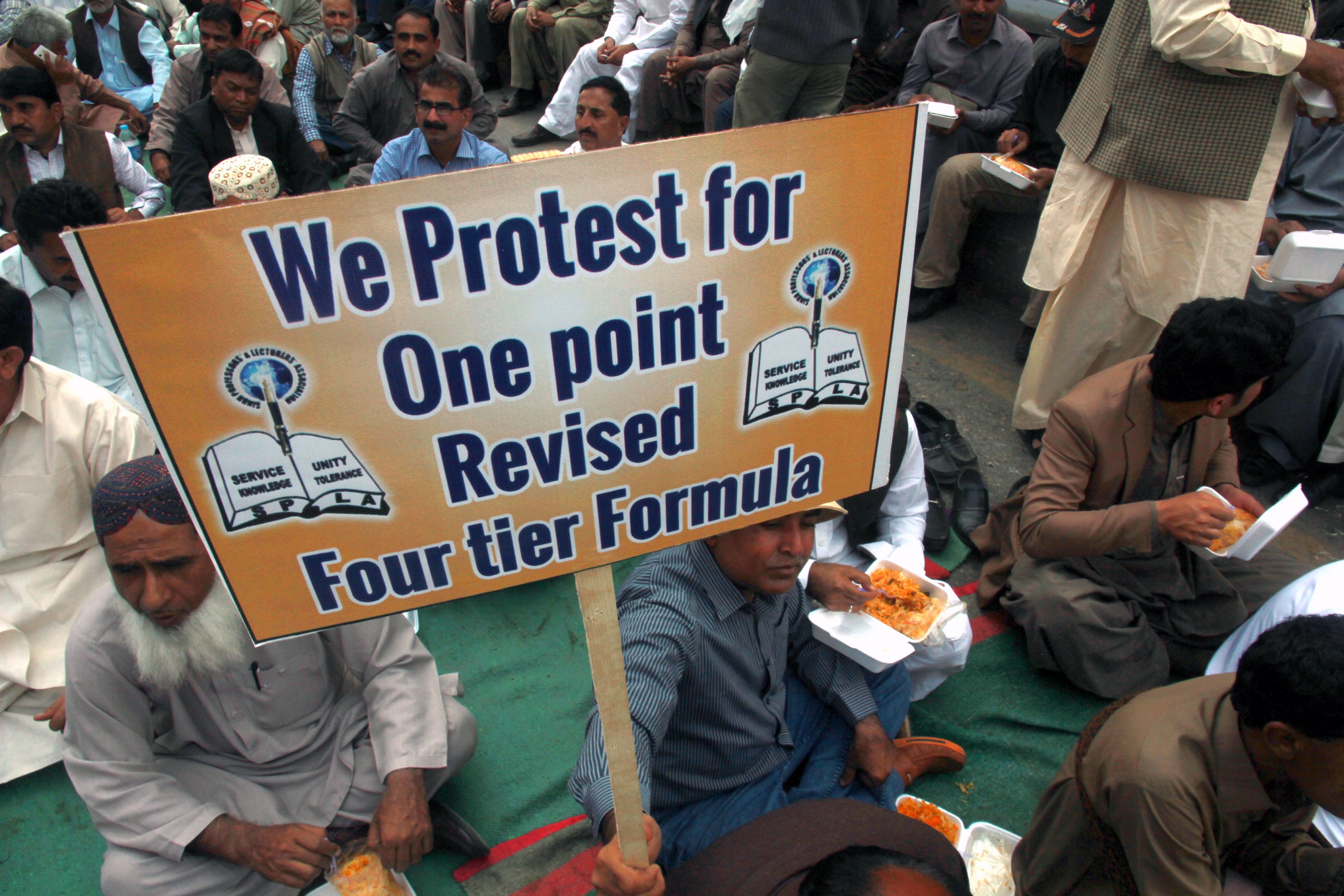 ---
KARACHI: The Sindh Professors and Lecturers Association (SPLA) staged a sit-in at the Karachi Press Club on Wednesday after fighting for the implementation of a four-tier formula for a year.

The four-tier formula means the inclusion of associate professors in the promotion formula.

The SPLA announced a demonstration against the government of Sindh and the education department at a press conference on February 6 after several failed attempts of protests, demonstrations and meetings with officials.

Fed up teachers: Teachers to stage protest outside Chief Minister House
"We are here to demand what is our right as teachers," said SPLA central president Ferozuddin Siddiqui, adding that they will not go home until their demand of a four-tier formula is met.

More than 200 teachers from across the province traveled to Karachi to demand their promotions.

"There are teachers from every city here but mainly from Sukkur, Larkana, Nawabshah, Ghotki, Hyderabad and Mirpurkhas," said Siddiqui, adding that they will be staying in Karachi and protesting here until the chief minister, education minister or secretary of college education will listen to them.

Street smart: Police clash with protesting teachers

When the SPLA team went to meet the secretary of college education, Dr Riaz Ahmed Memon, he said that he can form a committee to deal with the issue that will submit the report on March 2 while the college secretary himself is retiring on March 3.

"Making committees is not the solution to the problems of teachers who were appointed in 2000 and have not been promoted ever," lamented Siddiqui.

SPLA is providing water and food to the teachers who have travelled all the way to Karachi and has also made arrangements to stay at night at DJ Science College.

Reena Maharani, who is an 18-grade teacher at Ibn-e-Rushd Girls College in Mirpurkhas, said that she has been waiting for her promotion for a decade and there are thousands of teachers with similar stories.

"We will sit here until the four-tier system is revised in Sindh," said another teacher, Ayesha Khaskheli.

SPLA rejects committee formed to solve their issues

When it started
On March 29, 2016, when the teachers protested and wanted top put their four points to then chief minister Qaim Ali Shah but they were dispersed with water cannons and batons, resulting in minor injuries to seven teachers. Several teachers were arrested but were later released.

The demands involved implementation of the four-tier formula in Sindh, promotions of grades 18, 19 and 20 teachers, up-gradation of colleges and reflections of posts in budget books. After the incident a committee was formed and some of the demands were accepted.



The four-tier formula
Teachers are demanding revising the four-tier division of teachers' posts while being hired at provincial colleges. The last promotions of teachers were carried out through the three tier formula, which is professors, assistant professors and lecturers, for the sanctioned number of teachers at Sindh's colleges, which is 10,200.

In 1989, all the provinces in the country revised the formula of promotions from three tiers to four, with an additional post for associate professors.

According to the formula, the ratio of teachers changed and each college should have a total of 1% of its teaching staff as professors, 15% as associate professors, 34% as assistant professors and 50% as lecturers.

Punjab and Khyber-Pakhtunkhwa adopted the revised formula and revised the division at their colleges, while in Sindh the ratio of professors and lecturers is the same as it was 27 years ago.
COMMENTS (1)
Comments are moderated and generally will be posted if they are on-topic and not abusive.
For more information, please see our Comments FAQ