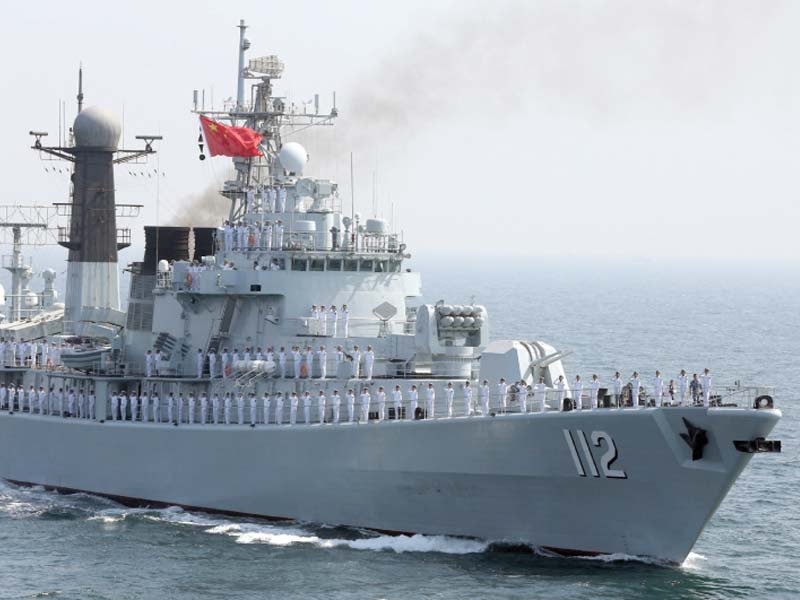 ---
KARACHI: Prime Minister Nawaz Sharif on Tuesday expressed satisfaction over the efforts of the Pakistan Navy stating that it was fully prepared to safeguard maritime interests of the country.

Addressing a delegation of 37 countries on the concluding day of the AMAN-17 exercise, the premier said that the presence of such large number of foreign navies is reflective of confidence of world navies on Pakistan.

Naval AMAN-17 exercise to prove endeavour of readiness for peace: PM

"With this state of operational readiness, Pakistan Navy is fully prepared and committed to ensure seaward defence and safeguard maritime interests of Pakistan," he said.

In his short speech, the prime minister lauded the strenuous efforts of Pakistan Navy for the successful conduct of AMAN-17 exercise, saying that "This is a manifestation of Pakistan's policy of constructive engagement with the comity of nations for peace and stability in the maritime commons."

Multinational Naval Exercise AMAN-17 came to its conclusion with spectacular sea manoeuvres and Fleet Review in the north Arabian Sea, amid a joint resolve of 37 countries - "Together for Peace".

United States, United Kingdom, Australia, China, Russia, Sri Lanka, Indonesia and Japan were among the countries who participated in the exercise with naval assets including ships, aircraft, helicopters, Special Operations Forces (SOF), Explosives Ordnance Disposal (EOD), and marines.

PM Nawaz had to shorten his Karachi visit in the wake of the Lahore blast on Monday. He was supposed to preside over law and order and development schemes meeting at the governor house, but cancelled all his activities and flew back to Lahore where he chaired a security meeting.

During his visit, the PM was briefed on the overall conduct and operational perspective of the exercise and was given a detailed account of the sea based activities. He also witnessed different operational serials of the exercise conducted at sea by participating naval ships, aircraft, helicopters and PAF fighter jets.

AMAN-17 naval exercise begins in the Arabian Sea

These serials comprised replenishment of men and material from one ship to another, Rockets Depth Charge (RDC) firing and surface-to-surface firing on pre-determined targets.

Prime Minister Nawaz Sharif was also presented an impressive flypast by various aircraft and helicopters of the navy, air force and participating countries including Japanese P3C Orion aircraft.

In the end, all participating ships of different countries skimmed past PNS NASR in a column formation and presented salute to the dignitary.

As many as 37 countries participated in the multinational naval exercise which was conducted in two phases— the harbour phase spanned from 11-12 Feb and the sea phase from 13–14 Feb.

Published in The Express Tribune, February 15th, 2017.
COMMENTS
Comments are moderated and generally will be posted if they are on-topic and not abusive.
For more information, please see our Comments FAQ