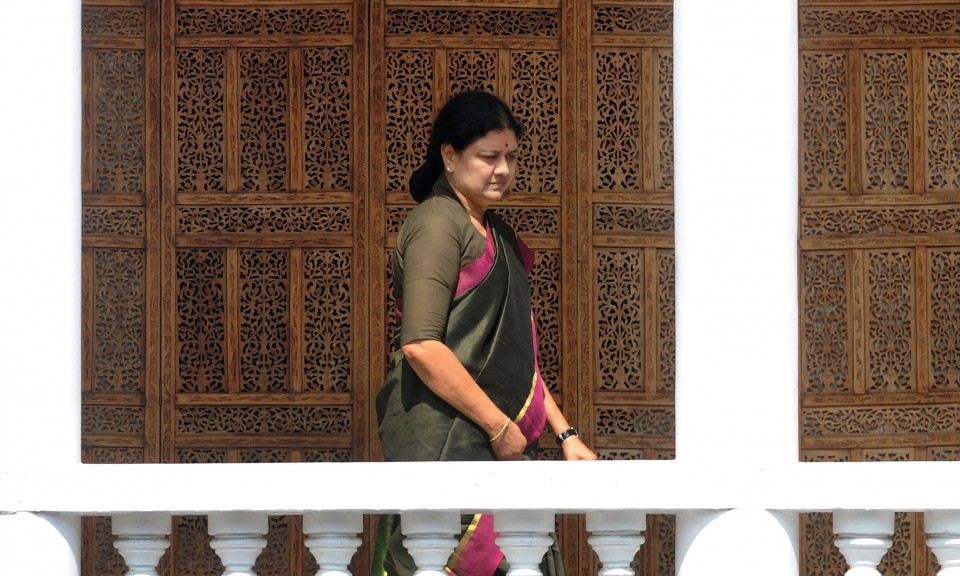 ---
NEW DELHI: India's Supreme Court handed down a four-year prison sentence on Tuesday to the incoming chief minister of Tamil Nadu for corruption in a ruling that prevents her from taking up her post.

VK Sasikala was found guilty of possessing "disproportionate assets" in a long-running case that also involved her mentor Jayalalithaa Jayaram, the state's former chief minister who died in December.

Sasikala was not present at the hearing in New Delhi but the court ordered that she immediately surrender to police to begin serving her sentence. The panel also sentenced her nephew and niece to four years in prison after a lower court had earlier acquitted them of any wrongdoing.

India party picks new chief after Jayalalithaa's death

Sasikala, a former video cassette salesperson, had been anointed as Jayalalithaa's successor by the state's dominant All India Anna Dravida Munnetra Kazhagam (AIADMK) and was due to be sworn in later this week. But she has been involved in a bitter battle in recent weeks with the state's acting chief minister minister, O Panneerselvam, who has been trying to block her ascent.

Tuesday's verdict means the 59-year-old Sasikala is barred from running for any public office for a decade and Panneerselvam is now likely to stay at the helm of the prosperous southern state.

The corruption case dates back to late 1990s when Jayalalithaa and Sasikala were accused of profiting from the chief minister's office and amassing wealth beyond their income. They were jointly accused of owning several bungalows, luxury cars, tea estates, eight tons of silver, nearly 30 kg of gold and thousands of saris which could be not accounted for through their salaries.

Mass grief as India political star Jayalalithaa dies

Sasikala was running a video parlour and Jayalalithaa was a budding politician when the two met, which marked the beginning of a decades-long friendship dogged by corruption scandals.

Sasikala was briefly expelled from the AIADMK over allegations that her family was misusing the Jayalalithaa name, but she was allowed back in after publicly distancing herself from her husband.

In 2014, both women were sentenced to jail for corruption but were acquitted on appeal after serving a brief period behind bars.