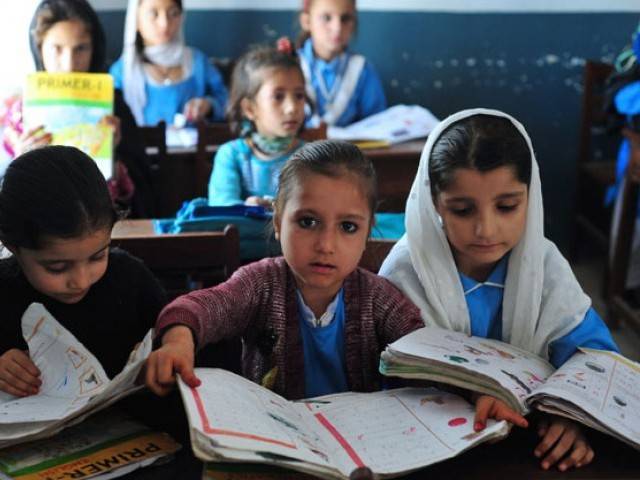 ---
PESHAWAR: The provincial government, led by Pakistan Tehreek-e-Insaf (PTI), has focused more on setting up and upgrading schools in urban districts, while depriving girls in most rural districts of their right to education.

According to the annual statistical report compiled by the Khyber-Pakhtunkhwa Elementary and Secondary Education Department (E&SED) for 2015-16, Torghar district was without a single high school for girls, followed by Kohistan district with just one high school while there were three high schools for girls in Shangla covering the entire district.

The latest data compiled by the provincial Independent Monitoring Unit (IMU) shows the province has as many as 2,108 high schools (1,386 for boys and 722 for girls).

Shikarpur District: 108 primary schools reopened    

Documents obtained by The Express Tribune showed that Mardan has the highest number of high schools for girls (67), following by Peshawar (55) and Swabi (48).

Similarly, Abbotabad has 45 high schools, Bannu 39, Dera Ismail Khan 45, Charssada 32 and Upper Dir 44.

However, in rural districts such as the Torghar, which has a high population density, is without any school, Kohistan has just one school, Shangal has three, Battagram seven and Hangu has only nine high schools for girls.

An official of the E&SED official, who spoke on condition of anonymity, said that in almost all instances politicians struggled to get more schools approved for their constituencies.

He said that during the previous government, then chief minister Amir Haider Hoti, who is from Mardan district, approved more schools for his home district.

Similarly, the then education minister, Muhammad Atif Khan, also from Mardan, got more schools approved for his district than other districts.

He said lawmakers not only got schools approved for their constituencies, but they also hired their own people in those schools. .

PML-N member of K-P Assembly Amna Sardar criticised the provincial government and said that in briefings, the government exaggerated figures regarding construction of schools while the actual situation contradicted the data on paper.

Schools operating in residential areas to be closed

She said that during the previous budget, the government focused more on girls education and construction of girls schools, but now the actual situation showed that entire districts were without even a single school for girls.

She called upon the government to fulfill its promises and provide education facilities in rural districts of the province.

However, Additional Secretary E&SED Qasir Alam Khan informed that two schools would be upgraded during the current year.

He said the government did not differentiate between rural and urban districts and equal facilities were provided in all districts.

Published in The Express Tribune, February 14th, 2017.
COMMENTS
Comments are moderated and generally will be posted if they are on-topic and not abusive.
For more information, please see our Comments FAQ