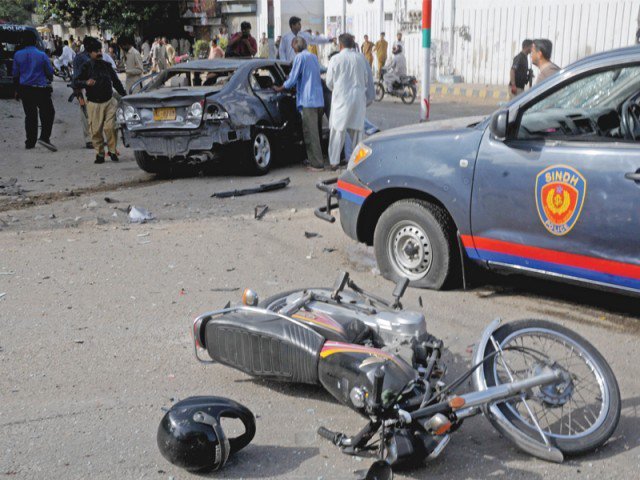 ---
RAHIM YAR KHAN: People in Pakistan are exposed daily to the news of recurring road accidents that cause injuries and deaths all over the country. Road accidents in Pakistan have taken a horrible toll in the last 10 years. According to reports, 15 people are killed daily in road, traffic accidents (RTA) in the country.

In Rahim Yar Khan, the rate of traffic accidents is much higher than other districts of Punjab.  Several people have lost their lives in fatal mishaps and the majority of those killed included motorcycle riders.

However, keeping in view the sensitivity of the issue, Rescue 1122 is working on minimising the rate of RTAs.

While speaking to journalists, District Emergency Officer Dr Abdul Sattar said a study had been conducted by Rescue 1122 officials regarding motorcycle accidents in all tehsils of Rahim Yar Khan district.

Wheels of fury: '90% accidents caused by motorcyclists'

The study was conducted using the data of RTAs pertaining to the last six months.

The objective of the research was to find out the root causes of increasing motorcycle fatalities, comparison among different types of RTAs and develop a plan to minimise the rate of such incidents.

He said the data was collected through analysis of emergency response forms and compilation of data of motorcycle RTAs, visit of different incident locations and investigation through rescue staff and gathering of feedback from victims and eyewitnesses.

The study found that out of 3,375 road accidents which occurred in the last six months, RTAs between the two-wheelers was 2,787 and affected people were 4,122. The percentage of road, traffic accidents involving motorcycles during the six months was 83%, which was alarming.

Useful information: Suggestions for motorcyclists

Similarly, RTAs between other vehicles were 588, RTAs between motorcycles and other vehicles were 2,787.

First aid was provided to 1,192 people.  Meanwhile, 2,908 injured were shifted to different hospitals.

The report revealed the black spot areas in all four tehsils of Rahim Yar Khan were the City Pul, Palace Road, Thali Chowk, Khanpur Road and Chandrami Road.

In Sadiqabad, black spot areas were identified as Nawa Kot Road, Ghari Ikhtiar Khan, Jamaldin Wali Road, Hospital Road and Tillu Road while Dhareja Thatak in Khanpur. In Liaquatpur, Jindoo Peer, Allahabad Road and Chowk Fareed were declared as black spot areas.

The study stated most of the victims of the RTAs were adults and experienced individuals but lacked safety awareness.

Apart from minor cases, use of mobile phones, overloading, speeding etc were the main causes of road accidents.

Another major reason for motorcycle accidents was the use of wrong way and violating one-way traffic rules. Besides, sudden change of lanes without using indicators, sudden entry from link road to main road,  poor road conditions, slipping of motorcycles due to cateyes, underage driving and having no side mirrors are also some of the causes that lead to fatal mishaps.

Published in The Express Tribune, February 13th, 2017.