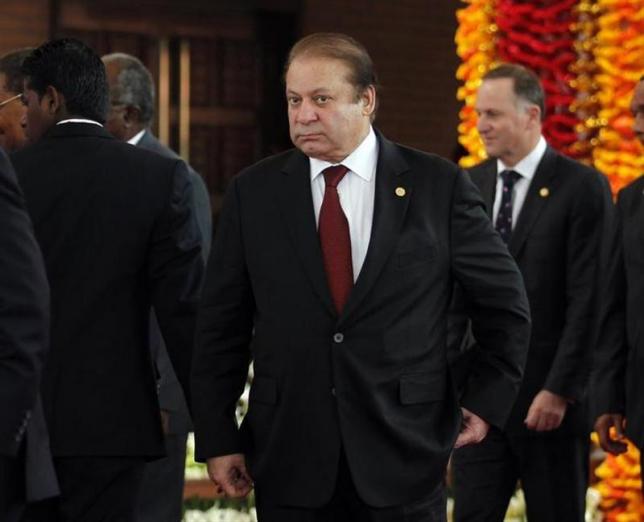 ---
ISLAMABAD: Prime Minister Nawaz Sharif claimed that Pakistan would be among the top 25 leading economies of the world in the next eight years.

"Our vision 2025 maps Pakistan to join the top 25 economies of the world leading to the Upper Middle Income country status by 2025," he said while speaking to business leaders from around 38 companies from across the world.

'Pakistan's economy will collapse in the next 10 years'

The economy is targeted to grow over 8% between 2018 and 2025 while maintaining single digit inflation, he said. Business consultancy firm Price Waterhouse Coopers has put Pakistan at 20th place on its projected list of 32 most powerful economies of the world in 2030, he added.

According to him, as a result of sustained commitment to reform, key economic indicators have improved since the PML-N came to power in 2013.

"Over the past three years, we managed to bring down the fiscal deficit from 8.6% to 4.6%, increased tax-to-GDP ratio from 9.8% to 12.4% and investment-to-GDP ratio from 14.9% to 15.2%. We have contained inflation which touched 1.6% in October 2015 and has remained well under 3% since then," he claimed.

Prudent financial and fiscal management enabled the central bank to bring the policy rate to a multi-decade low. The industrial sector showed remarkable performance and registered a growth of 6.8% during 2015-16, he said. It is poised to do even better this year and onwards.

The consumer market is growing at a very fast pace. The consumer demand of automobiles, housing and electronics is thriving and providing considerable returns to the corporate sector. The services industry, particularly telecommunication, hospitality and online-retails, are fast growing into attractive areas for investment. Pakistan is emerging as an expanding market for US and European products.

With a fast growing middle class, increasing urbanisation, growing popularity of international food products, and a rising number of international food chains, Pakistan is poised to become a major destination for international businesses.

17 predictions for Pakistan's economy in 2017

Premier Sharif said his administration has devised a comprehensive plan to create an investment-friendly environment. We have liberalised investment policies to welcome foreign investments.

Pakistan now offers incentives to attract new capital inflows, including tax exemptions, tariff reductions, infrastructure, and investor facilitation services. "Our Investment Policy (2013) focuses at reducing the cost of doing business in Pakistan, improve ease of doing business with creation of industrial clusters and special economic zones to attract foreign direct investment. All this is protected by legislation."

International economic agencies are upgrading ratings for the financial and economic stability of Pakistan.

The Standard & Poor (S&P) has upgraded its forecast of average annual GDP growth from 4.7% to 5%. The World Bank forecasts a GDP growth of 5.2 % for 2016-17. S& P also expects Pakistan's debt to fall below 60% of GDP by 2018. It has upgraded Pakistan's long-term credit rating to B with a stable outlook.

Published in The Express Tribune, February 10th, 2017.
COMMENTS (2)
Comments are moderated and generally will be posted if they are on-topic and not abusive.
For more information, please see our Comments FAQ