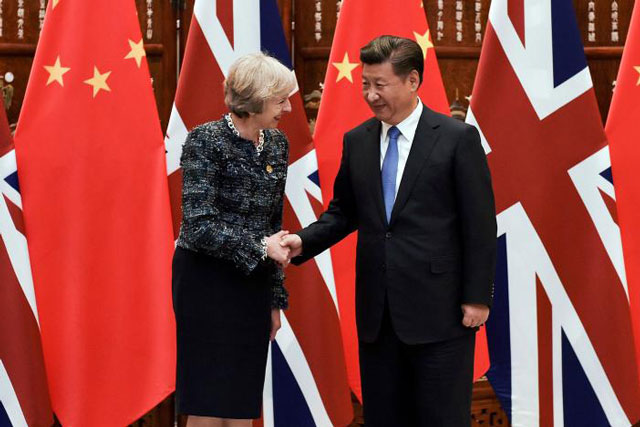 ---
BEIJING/LONDON: China has invited British Prime Minister Theresa May to attend a major summit in May on its "One Belt, One Road" initiative to build a new Silk Road, diplomatic sources told Reuters, as London said she would visit China this year.

"One Belt, One Road" is Chinese President Xi Jinping's landmark programme to invest billions of dollars in infrastructure projects including railways, ports and power grids across Asia, Africa and Europe. China has dedicated $40 billion to a Silk Road Fund and the idea was the driving force behind the establishment of the $50 billion China-backed Asian Infrastructure Investment Bank.

China has so far given few details about who will attend the summit, to be held in Beijing. The country's top diplomat, State Councillor Yang Jiechi, told the official China Daily last week that leaders from about 20 countries have confirmed their participation, representing Asia, Europe, Africa and Latin America, though he did not give names.

Chinese concept of Silk Roads beyond CPEC, says Dr Di Meglio

One Beijing-based diplomatic source with direct knowledge of the invite list told Reuters that May was among the leaders who had been invited. "China is choosing the countries it sees as friends and who will be most influential in promoting 'One Belt, One Road'," said the source, speaking on condition of anonymity.

Two other diplomatic sources confirmed May was on the invite list. "It's China's most important diplomatic event of the year," one of the sources told Reuters. Chinese Foreign Ministry spokesperson Lu Kang said plans for the summit are proceeding smoothly, and that details of the participants will be announced at a later date. "China welcomes Prime Minister May to visit China at the appropriate time," Lu told a daily news briefing.

Sri Lanka has already confirmed its prime minister is coming, and China says Philippine President Rodrigo Duterte is also attending. Foreign leaders often combine attendances at important multilateral events China is hosting with official state visits to China.

May to discuss trade

Speaking in London, May's aides confirmed she would visit China this year to discuss trade ties, the latest in a series of foreign trips to cement relations with major powers as she negotiates Britain's divorce from the European Union.

May's aides gave few details about the trip, but she is keen to strengthen her hand by securing foreign support before launching Brexit talks, which are set to be among the most complicated Britain has ever undertaken.

"It would be a renewed expression of the close relationship between Britain and China, something that you have seen obviously develop over the past few years," May's spokesperson told reporters on Tuesday. "I would imagine that trade would form some part of the discussions that we have."

'One belt, one road' has reinvigorated ties with China - Rashid

The Commerce Ministry has said China has an open attitude towards a free trade deal with Britain once it leaves the EU and was willing to study it, but Chinese officials have otherwise said little publicly about the subject.

May attended a summit in China of the G20 leading economies last September, shortly after she became prime minister following June's referendum vote to leave the EU, and was invited by Xi to visit again. With May having made clear she plans for Britain to leave the EU's single market, trade has dominated her talks with foreign leaders in recent months.

She has secured assurances from US President Donald Trump, Indian Prime Minister Narendra Modi and other world powers that they are keen to start talks on boosting links. But her attempts to up the stakes in talks with the EU, which she is due to launch before the end of March, have also drawn criticism.

Some opposition lawmakers have accused May of ducking difficult issues to win promises for trade -- a charge repeated when she became the first foreign leader late last month to meet Trump, who has since been criticised over his immigration curbs.

She also came under fire for strengthening ties with Turkish President Tayyip Erdogan, who has been criticised by rights groups for jailing tens of thousands of people after a failed coup in July.