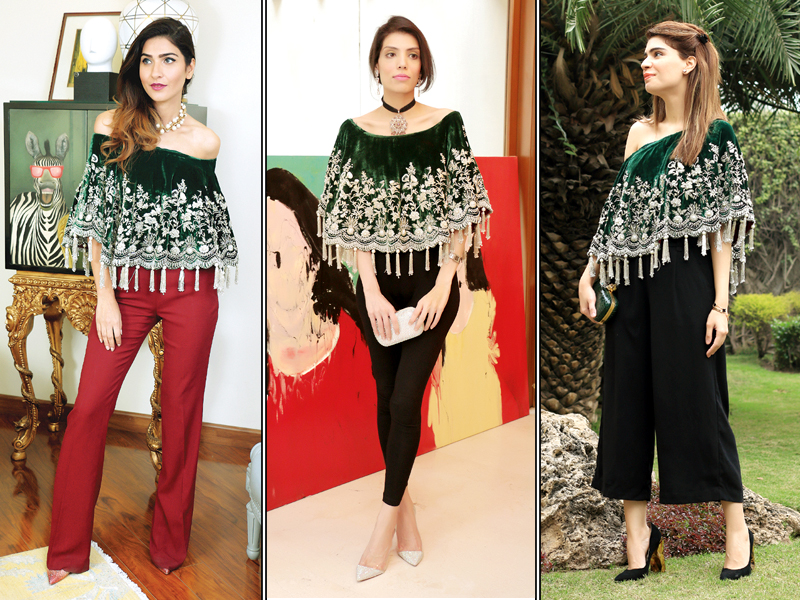 ---
While trends fade, style remains eternal and one piece can be put together in many different ways. In this feature we have three fashionistas showing us how to put together an item from a designers collection, according to their own individual style and taste!


T his beautiful, bottle green, velvet capelet from Élan's 'Palais Indochine' collection is heavily embellished with pearls, and silver and gold antique, zardozi embroidery. The beaded tassels, reminiscent of the traditional kiran detailing, gives the modern silhouette a sense of old-world glamour. Though, it is a heavily embroidered piece, the modern cut ensures that it remains versatile, and easy-to-wear in several different ways.

Kiran Malik




HR Consultant

I would describe my personal style as classic, feminine and understated. I think the phrase 'less is more' was made for me! The Élan capelet is so eye catching in itself, that I decided to add a contrasting colour in my outfit. Hence, I wore burgundy pants, and accessorised with chunky pearls to emphasise the off-shoulder cut. The bling in my shoes added some glamour to my
look. I would wear this ensemble on a night out for sure — its Eastern and Western aesthetic makes it so wearable on various occasions.

Noor Monnoo




Full-time Mother

I would describe my personal style as classic. I am all about keeping it simple and wearing flattering silhouettes. I loved the eclectic mix of the East and the West that this Élan ensemble brought. The silver, beaded embroidery set on deep-green velvet is traditional, while the cut is modern. To style the piece, I wore black culottes, black pointed heels and a green python clutch. I'd most likely wear this outfit to a formal, day event.



Mariam Hussain Qureshi




Artist

I always tell people my style depends on who I feel like when I wake up that morning. It ranges from Robert Smith to Veronica Lake. I'm not afraid to experiment and I love bold, daring cuts as well as old school glamour. If you've got the perfect shoulders, then I feel there's nothing like putting on a beautiful capelet to complement them. For this Élan look, I wanted to keep everything understated so the capelet and my shoulders could stand out. I kept the look messy-glam by loosely tying my hair, and wearing a vintage, polki choker and earrings. I wore black tights to balance the outfit and went for a pair of silver heels to complete the look. I would wear this to a formal dinner party or a post-wedding dinner.


COMMENTS
Comments are moderated and generally will be posted if they are on-topic and not abusive.
For more information, please see our Comments FAQ