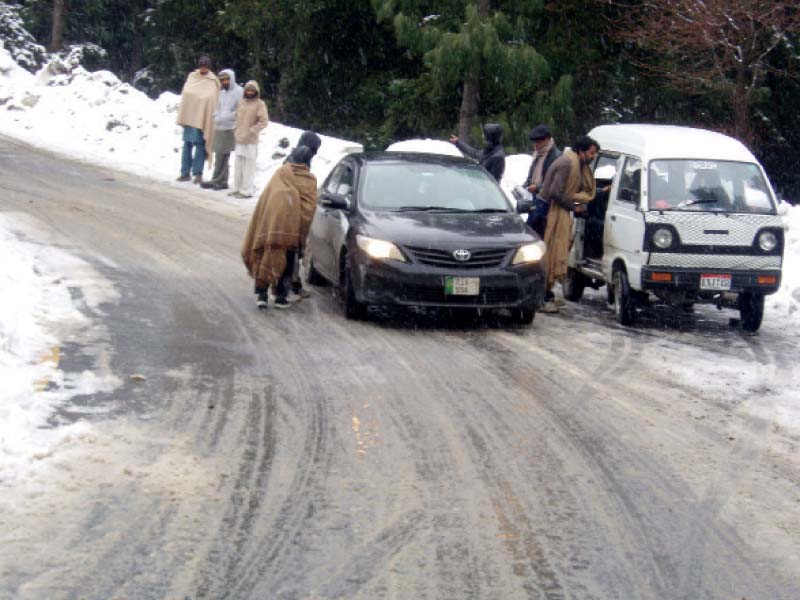 ---
ABBOTTABAD: Tourism promotion is accorded topmost priority in almost every major country of the world as this industry generates much needed revenue and foreign exchange to the country.

This, however, does not seem to be the case as far as Pakistan is concerned.

The Galiyat Development Authority (GDA), CW, and K-P Highway and Cantonment Board, are the stakeholders responsible for making travel, stay and transport of tourists safe and hassle-free in Galiyat, which is imperative for the promotion of eco-tourism in the area.

These service-oriented industries are mostly operated through contracts with private companies.

Five foreigners who took a chance on Pakistan

A case in point is keeping roads usable. The responsibility has been given to a private contractor who is in league with the powers that be in the province.


Tyre chains installed with rope. PHOTO: MUHAMMAD SADAQAT/EXPRESS

This private contractor has only two operable snow ploughs.

Locals say the Cantonment Board only manages a limited strip of road within PAF Kalabagh and they clear it with their own machines.

But a private contractor is responsible for the main Abbottabad-Muree Road and over 16 link roads in Galiyat.

"During this season, the main Abbottabad-Murree Road was blocked over a dozen times, while most link roads are still covered in snow since the last snowfall as the contractor has only two machines and his workers do not clear the road", said Khalid Khan, who runs a hotel in Nathiagali bazaar.

Tourists throng northern hill stations

Doonga Gali police confirmed that over 300 tourist vehicles were stranded in the snow between Doonga Gali and Bariyan since Saturday evening and many of them spent nights in their vehicles.

"The contractor's men do not clear the road deliberately as they have developed a nexus with groups of individuals from Galiyat area who offer chain service to tourists charging them exorbitant charges a part of the amount going to the contractor's men," businessman Sardar Naeem told The Express Tribune.

He explained that the contractor's workers removing snow leave a small layer of snow on the road and do not sprinkle salt on time, because of which the snow eventually melts into an icy sheet, making the road slippery.

It was also observed that people get fleeced while paying for tyre chains.

The chain squad are 100 in number offer individuals and work between Bagnotar to Bariyan – covering a strip of about 35 km –carry two chains on their shoulders or in their bags and charge Rs2,000 to Rs10,000 from a stranded tourist.

"I paid Rs5,000 to a chain offering villager for a five kilometre strip," told Naveed Rana a tourist from Lahore.

Another tourist told The Express Tribune that he paid Rs10,000 for a strip of 14 km.

Villagers have adopted this part time profession and earn handsomely. " I earn Rs10,000 to Rs20,000 a day," a chain vendor named Idrees told The Express Tribune.

History: CDA to preserve Shah Allah Ditta Caves

He admitted he greases some palms to allow him to continue his business, but he did not name names.

DSP Galiyat Jamilur Rehman confirmed that a group of 25 to 30 villagers were engaged in the business of offering chains to motorists. "True…we have received similar complaints about machine operators being hand-in-glove with chain vendors," he said.

The DSP said he has taken up the matter with contractor and GDA.

GDA spokesman Ahsan Hameed also confirmed having received complaints about the activities of the contractor's staff.

He said the GDA has served show cause notices to the contractor and K-P Highway officials for failing to properly clear roads.

He added that GDA was going to make efforts to ensure proper snow removal and would also regularise tyre chain installation with proper fees and approvals.

Published in The Express Tribune, February 8th, 2017.
COMMENTS (1)
Comments are moderated and generally will be posted if they are on-topic and not abusive.
For more information, please see our Comments FAQ