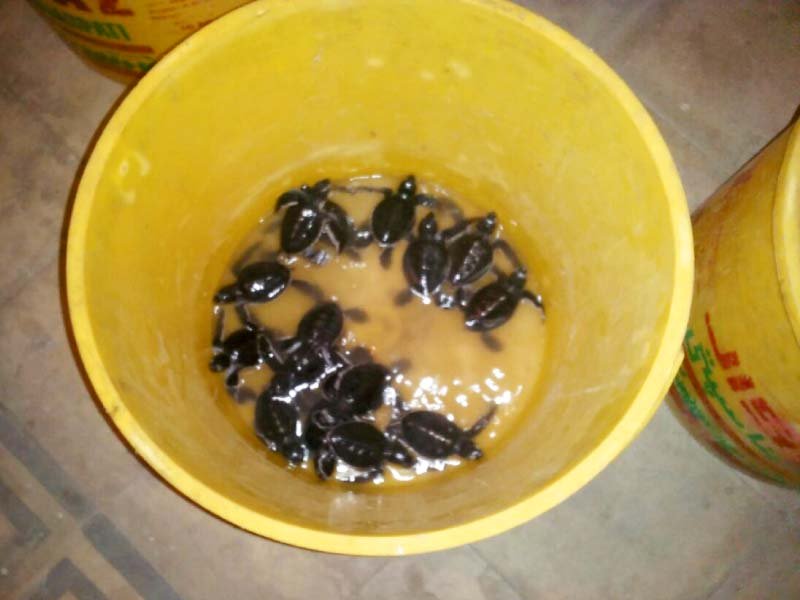 ---
The Sindh wildlife department (SWD) confiscated on Monday 40 green sea turtle hatchlings and nine Indian flapshell turtles, which were being illegally sold at two aquariums on Burnes Road.

The wildlife department conducted the raid on the request of World Wildlife Fund (WWF)-Pakistan, which has been receiving several complaints from citizens about the illegal trade of turtles in Karachi.

The Indian flapshell turtles were released at Haleji Lake, Thatta on Tuesday whereas the green turtles will be released at Sandspit Beach, Karachi today (Wednesday).

This successful seizure is a significant effort to halt the illegal trade of wildlife in the province, shared SWD wildlife conservator Saeed Akhtar Baloch, adding that the SWD has been able to foil two networks of traffickers involved in the freshwater turtle trade and has rescued hundreds of freshwater turtles in the past year.

WWF-Pakistan is concerned about the increase in the illegal trade of the turtles and tortoises within the country due to their growing demand as pets, said WWF-Pakistan senior director programmes Rab Nawaz, adding that their open trade in pet shops and online via social media is increasing at an alarming rate which needs to be strictly monitored.

He highlighted that foiling of the illegal sale of turtles in Karachi demonstrates the strict vigilance and alertness of concerned organisations and law enforcement agencies and that strict penalties should be set as examples for others involved in this illicit business.

All species of freshwater and marine turtles are protected under the wildlife protection laws of the country but despite this, their illegal trade continues, he said.

Published in The Express Tribune, February 8th, 2017.
COMMENTS
Comments are moderated and generally will be posted if they are on-topic and not abusive.
For more information, please see our Comments FAQ