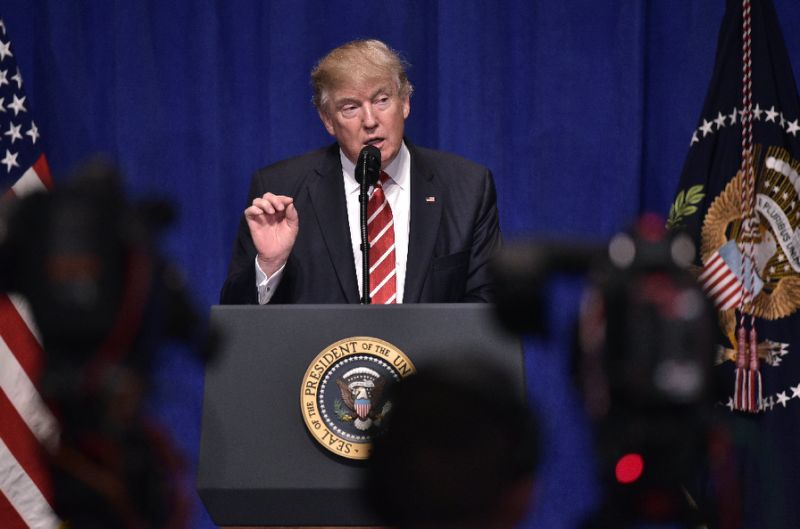 ---
WASHINGTON DC:
US President Donald Trump accused the media Monday of disregarding attacks perpetrated by militant, in a provocative statement for which he provided no evidence.
"IS is on a campaign of genocide, committing atrocities across the world. Radical Islamic terrorists are determined to strike our homeland," the president said, using an acronym for the Islamic State group.
The world's biggest companies have united to sue Trump over Muslim ban
Trump, who was speaking during a visit to US Central Command in Tampa, Florida then listed a string of attacks carried out in the United States, including 9/11, the Boston Marathon bombings, the Orlando gay nightclub massacre and the San Bernardino shootings.
"You have seen what happened in Paris and Nice. All over Europe it's happening. It's gotten to a point where it's not even being reported," Trump added. "And in many cases the very, very dishonest press doesn't want to report it," he said, in one of his customary attacks on the media.
Trump administration defends 'lawful' travel ban
"They have their reasons, and you understand that," he concluded, without giving any explanation.
Asked about the president's statement shortly thereafter, White House spokesperson Sean Spicer said "we'll provide a list later."
"There's several instances. There's a lot of instances that have occurred where I don't think they've gotten the coverage it deserved," he said.
COMMENTS
Comments are moderated and generally will be posted if they are on-topic and not abusive.
For more information, please see our Comments FAQ