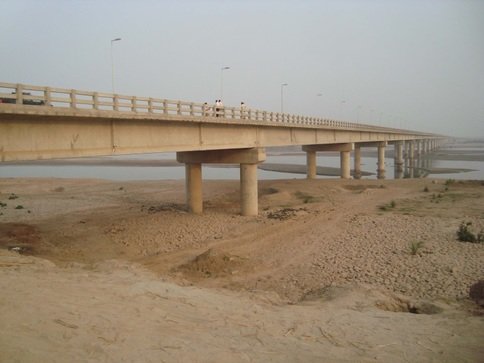 ---
ISLAMABAD: Documents released by the National Highway Authority (NHA) have shown that a bridge project left unconstructed for the last three decades will finally seen the light of day.

The Nishtar Gath bridge, one of the major infrastructure projects, costing Rs5.49 billion is expected to be completed this year.

This proposed bridge -- connecting Balochistan and Punjab via the GT Road (N-5) and the Indus Highway (N-55) on both sides of River Indus has seen its share of setbacks since 1988.

According to documents obtained by The Express Tribune, the project is divided into four packages, including an approach road from Kot Mithan to N-55, Shaheed Benazir Bhutto bridge over River Indus linking N-5 with N-55, approach roads from Chachran Sharif, Abutment B to Kot Mithan and from N-5, between Zahirpir and Chachran Sharif and the construction of Guide Banks.

Traffic woes: Proposal to reduce railway crossing closure time  

The Nishtar Ghat project was announced in 1988 by former prime minister Benazir Bhutto but was delayed for a host of reasons.

Work on the bridge was initiated in 2002 after a gap of 14 years over the River Indus after the dual carriageway between Taranda Muhammad Pannah and Bahawalpur and between Multan and Muzaffargarh was approved, but it was again delayed.

In 2009, the construction work on the project was handed over to the NHA and its design was approved in 2010, documents showed.

The project was re-aligned in 2010 after major floods which necessitated detailed model studies. There was no progress on the project till 2012 mainly because of financial constraints and land acquisition issues.

Public suffering: Road, train traffic comes to a standstill

The project once again halted in 2012 because of financial issues.

Already a sum of Rs4.5 billion has been spent on the project, according to NHA spokesperson Kashif Zaman. The bridge is now expected to be ready by December this year. He said that the main bridge has been completed and now work is in progress on access roads.

Published in The Express Tribune, February 6th, 2017.
COMMENTS
Comments are moderated and generally will be posted if they are on-topic and not abusive.
For more information, please see our Comments FAQ