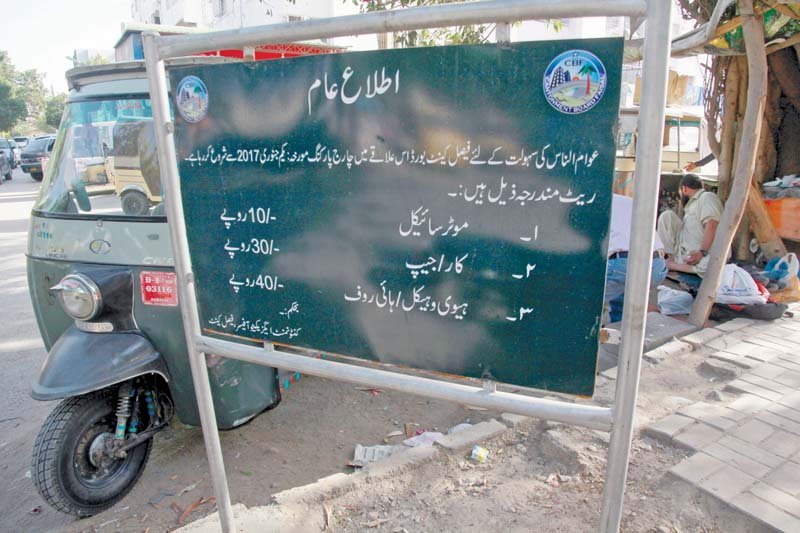 ---
KARACHI: The parking mafia seemed to have entered the Cantonment Board Faisal's jurisdiction and, despite the Sindh High Court's (SHC) order restraining all the cantonment boards of the city from collecting charged parking fees, the CBF continues to collect the charge.

Recently, a few boards have been put up on footpaths opposite Darul Sehat Hospital in Gulistan-e-Jauhar, which is purely a residential area, featuring parking fees of Rs30 for cars, Rs20 for motorcycles and Rs40 for heavy vehicles. However, the Supreme Court has already ordered that there is no law permitting the installation of boards in public spaces.

Just a little further from those boards, a banner has been placed by the residents of Gulistan-e-Jauhar's Block 13, terming the parking fees 'illegal' and a bid to mint money from residents.

Media talk: We need to develop Karachi: mayor 

According to a local resident, Masqoor Qazi, the collection of parking fees in a residential area is just out of the question. "I parked my car outside a bakery for no more than five minutes and the charged parking collector immediately came and handed me a Rs30 slip," he said. "If I refuse to pay the fees, the fee collector starts abusing and threatening me. Who would want to indulge in arguments when with families?" He lamented that most people just pay the fees to get rid of the fee collector.

According to one of the shopkeepers in the area, Aslam, people have stopped coming to their shops to avoid the hassle of paying the parking fee. "I wonder how the CBF is charging parking fees in residential areas," he said.

The act of levying such a fee and awarding the contract to a private party for its recovery is considered illegal, unauthorised and in violation of the Cantonments Act, 1924, and the subsequent by-laws.

Dr Syed Raza Gardezi of non-profit organisation Shehri - Citizens for a Better Environment, told The Express Tribune that the cantonment boards are collecting parking fees without any parking by-laws. The SHC has asked these cantonment boards to draft their by-laws and gazette them in a newspaper.

"Shehri had asked the cantonment boards to issue their parking by-laws but they never did," he said. When asked if it was legal to collect parking fees in a residential area, he responded that initially there should be a parking by-law, only then the question of parking fees in residential or commercial areas could spring up. However, he said that there shouldn't be any parking fees in residential areas.

Another day, another plan: Mayor announces 100-day plan to revamp Karachi

Meanwhile, CBF's law officer, Muhammad Qaim, said that under Section 60 of the Cantonment Act, 1924, they can collect parking fees. Regarding the SHC's restraining order, he said that was only for the Cantonment Board Karachi and it did not apply to them. He said that the Rs30 fee for cars and Rs20 for motorcycles are legitimate fees, as the Karachi Metropolitan Corporation (KMC) is also collecting a similar amount. However, the KMC is collecting Rs20 for cars and Rs10 for motorcycles.

Qaim also said that if the residents are facing any problems due to the parking fee, they can always file a complaint, which will definitely be addressed.

Published in The Express Tribune, February 6th, 2017.
COMMENTS
Comments are moderated and generally will be posted if they are on-topic and not abusive.
For more information, please see our Comments FAQ