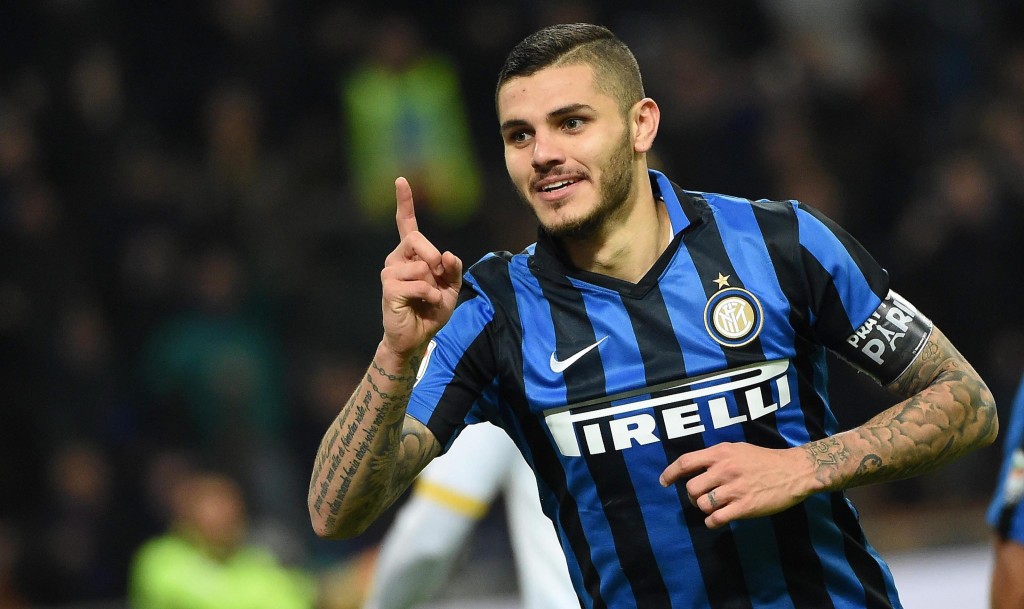 ---
MILAN: Serie A sinner Mauro Icardi can impress Argentina coach Edgardo Bauza when he watches the Inter Milan striker at leaders Juventus on Sunday, according to coach Stefano Pioli.

Inter, in fourth nine points adrift, are targeting their first away league win over the 32-time Italian champions since November 2012.

But Pioli's men are on an eight-game winning streak, albeit one that has seen Icardi hit only three of the 15 goals that have given him a share of the league lead with Juventus and Argentina striker Gonzalo Higuain and Roma's Edin Dzeko.

By all accounts, Bauza should be turning his attention to on-form Juve striker Higuain, who has struck six times in his last five league outings, as well as compatriot and teammate Paulo Dybala.


Juve favourites for title glory as Serie A returns


Both have been decisive in helping Juve carve open a four-point lead on title rivals Roma, with a game in hand to boot.

But asked whether Icardi or Higuain was better, Pioli told Inter Channel: "Icardi." He added: "Bauza's visit will be a pleasant surprise for everybody, especially Icardi."

Yet controversy continues to surround Icardi, whose sole appearance for the Albiceleste was a second-half cameo appearance in a World Cup qualifying loss to Uruguay in 2013.

After an eventual return hit the skids last year, reports claimed Barcelona star Lionel Messi was behind Icardi's exclusion over his treatment of Maxi Lopez.

Icardi and Lopez were once friends while they played at Sampdoria, until Lopez's wife Wanda Nara left him for his younger teammate.

Lopez's children live with Icardi and Nara, and the tensions between the former teammates have often spilled over into the tabloid magazine press. On the pitch, they have also been evident: on two occasions Lopez has refused Icardi's hand when offered at the pre-match shake.


Inter Milan appoint Pioli as new coach


Messi and Lopez have been friends for years and recently Argentina legend Diego Maradona weighed in when he told Canale 5: "He's a traitor. He [Icardi] can't go to dinner with his teammates then get married to the wife of his friend. He'll pay for what he did to Lopez."

Icardi caused more controversy earlier this season when he published an autobiography in which he made false claims about incidents involving hardline 'ultra' supporters of the club.

The supporters' backlash was such that Icardi had to republish his book after amending certain passages in the text.

Yet Icardi, thanks to his goals per minutes played ratio, is currently one of the top strikers in Europe.

And against Juventus, he has often been decisive, scoring openers, late equalisers and match-winners with impressive regularity.

Last September Icardi hit a second-half leveller, 10 minutes before Ivan Perisic's 78th minute winner for Inter handed Juve their first defeat of the season in a 2-1 San Siro upset.

On Saturday, Bauza will also have one eye on Juve's man of the moment, playmaker Dybala, a player for whom Pioli practically admitted Inter don't have the antidote.

Asked how to stop the Argentine starlet, he went off course, replying: "They have great players, their [tactical] formation is working well. We have to focus on trying to keep the right balance."

But Juventus are unbeaten at home in the league in their past 27 games, and if Inter are to break that run Pioli admits there is only one solution.

"We have to play as a team. All their players are great. And we'll only keep pace with them if we play as a team. Although, we do have some top players ourselves.

"We know that when we play with intensity, we can do damage. Juventus are the strongest team in Italy but Inter are one of the few sides capable of causing them problems."