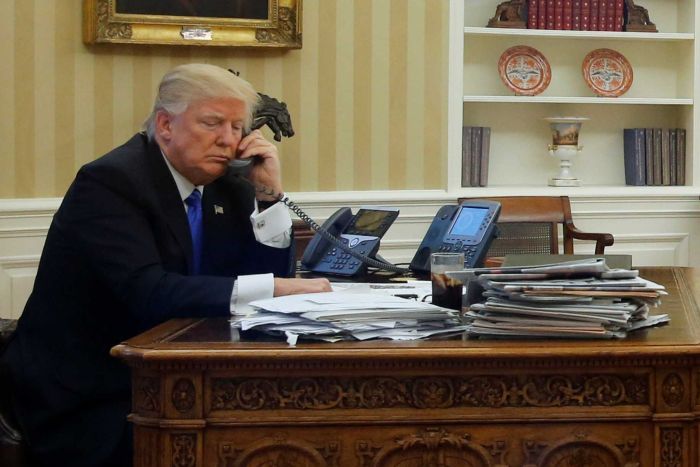 ---
SYDNEY/WASHINGTON: US ties with staunch ally Australia turned strained on Thursday after reports of an acrimonious phone call between the two countries' leaders emerged and US President Donald Trump said a deal between the two nations on refugees was 'dumb'.

Trump and Australia's Prime Minister Malcolm Turnbull spoke for about 25 minutes on Saturday, but the call ended abruptly after Trump panned a bilateral resettlement deal on refugees, The Washington Post reported. Trump accused Australia of trying to export the 'next Boston bombers' and said the call was the worst he had had with world leaders thus far, according to the newspaper.




Under the Australia deal set with former President Barack Obama last year, the US agreed to resettle up to 1,250 asylum seekers held in offshore processing camps on Pacific islands in Papua New Guinea and Nauru. In return, Australia would resettle refugees from El Salvador, Guatemala and Honduras.  Many of the people being held in the Australian detention centres, which have drawn harsh criticism from the United Nations and rights groups, fled violence in countries such as Afghanistan, Iraq and Iran.

White House spokesman Sean Spicer told reporters on Thursday that Trump was 'unbelievably disappointed' and 'extremely, extremely upset' with the deal, but said it would go ahead. Spicer said all the refugees presented to the US would be subject to 'extreme vetting' to ensure they do not pose security risks.

Turnbull told reporters he was surprised and disappointed that details of the call with Trump had been leaked but gave few particulars other than to deny reports Trump had hung up on him. "As far as the call is concerned, the report that the president hung up is not correct. The call ended courteously. And as far as the nature of the discussion, it was very frank and forthright," he told a Sydney radio station on Thursday. "I make Australia's case as powerfully and persuasively as I can, wherever I am," he said. As reports of the phone conversation made headlines on both sides of the world, Trump tweeted shortly before midnight in Washington: "Do you believe it? The Obama Administration agreed to take thousands of illegal immigrants from Australia. Why? I will study this dumb deal."

Political analysts said the acrimony between the two countries was unprecedented.

Published in The Express Tribune, February 3rd, 2017.