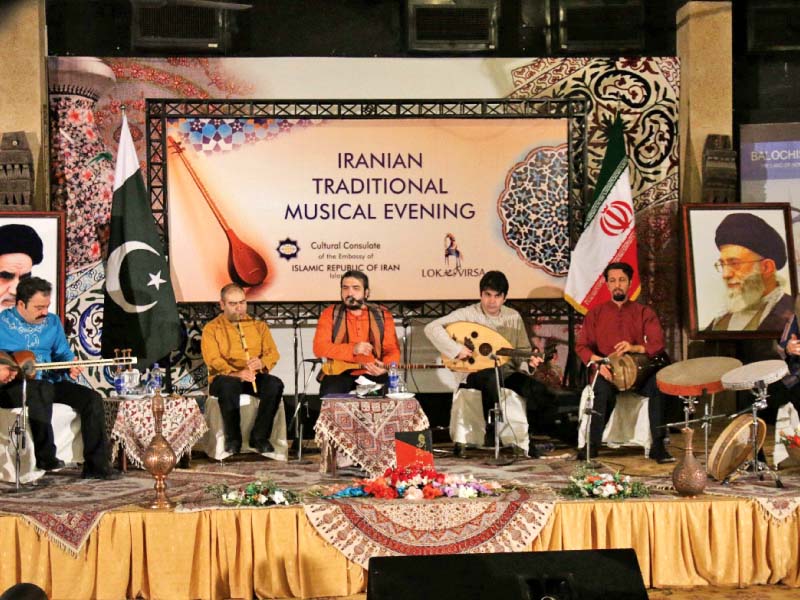 ---
ISLAMABAD: A group of Iranian artists enthralled audiences with classical music at Lok Virsa on Thursday.

The event, part of a traditional music festival, was held to mark the 38th National Day of Iran, which marks the anniversary of the Islamic Revolution in the country.

Iranian artists, including Ali Sohofi, Zaman Khairi, Saeed Jalalian, Amir Parveez Ahmadi, Muhammad Baqir Zenali and Amir Mardaneh performed on the occasion to rapturous applause from the audience.

They played a number of traditional Iranian string, wind and percussion instruments including the double-chested, plucked lute Persian Tar. Another played the Persian doutar – a long-necked two-stringed lute – while another strummed the Barbat.

Among the wind instruments were the Persian ney, made of seven-section reed.

One of the artists also played the Persian daf, a drum. Another handled the Tombak, a one-headed drum.

The evening ended with a performance by Iranian classical music group `Kook' which was highly appreciated by the audience.

Earlier, Shahaboddin Daraei, the cultural counsellor at the Iranian embassy, said 38 years ago, the struggle of the Iranian people came to fruition and the corrupt monarchy was overthrown.

"I hope that people of Iran also get similar opportunity to witness the traditional music of Pakistani artists," he added.

A large number of people from twin cities of Islamabad and Rawalpindi also attended the musical performances and applauded the stunning performances of the Iranian artists.

Published in The Express Tribune, February 3rd, 2017.
COMMENTS
Comments are moderated and generally will be posted if they are on-topic and not abusive.
For more information, please see our Comments FAQ