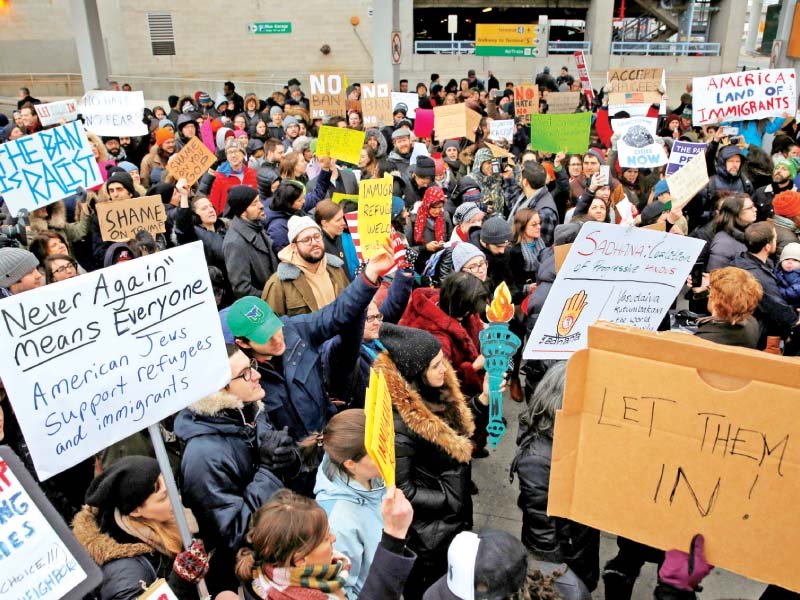 ---
WASHINGTON: US President Donald Trump unleashed a wave of alarm on Saturday with his order to temporarily halt all refugee arrivals and impose tough controls on travellers from seven Muslim countries including war-wracked Syria.

Making good on one of his most controversial campaign promises, and to the horror of human rights groups, Trump said he was making America safe from 'radical Islamic terrorists'. "This is big stuff," he declared at the Pentagon, after signing an executive order entitled "Protection of the nation from foreign terrorist entry into the United States."

Trump's decree suspends the entire US refugee resettlement program for at least 120 days while tough vetting rules are established. These new protocols will "ensure that those approved for refugee admission do not pose a threat to the security and welfare of the United States."

In addition, it specifically bars Syrian refugees from the United States indefinitely, or until the president himself decides that they no longer pose a threat.

Meanwhile, no visas will be issued for 90 days to migrants or visitors from seven mainly-Muslim countries: Iran, Iraq, Libya, Somalia, Sudan, Syria and Yemen.

In reaction to the order, the United Nations on Saturday urged the US to continue its "strong leadership role and long tradition of protecting those fleeing conflict and persecution." In a joint statement the UN refugee agency, UNHCR, and the International Organisation for Migration said they believed "refugees should receive equal treatment for protection and assistance, and opportunities for resettlement, regardless of their religion, nationality or race."

The order laid the way for what Trump has pledged will be the 'extreme vetting' of visa applicants' backgrounds with some exceptions made for members of 'religious minorities' – a caveat many see as a way to apply favourable treatment to Christians from majority-Muslim states.

Civil liberties groups and many counterterrorism experts condemned the measures, declaring it inhumane to lump the victims of conflict in with the extremists who threaten them. "Extreme vetting is just a euphemism for discriminating against Muslims," said Anthony Romero, executive director of the American Civil Liberties Union. He said Trump's order breached the US constitution's ban on religious discrimination by choosing countries with Muslim majorities for tougher treatment.

Ahmed Rehab, director of the Chicago chapter of the Council on American-Islamic Relations, told AFP his group would mount legal challenges to fight the order "tooth and nail." "It is targeting people based on their faith and national origin, and not on their character or their criminality," he told AFP.

Speaking in Tehran, Iranian President Hassan Rouhani did not comment directly on the visa ban but said Iran had "opened its doors" to foreign tourists since the signing of a nuclear agreement with world powers in 2015. He also said now was "not the time to build walls between nations," a reference to Trump's plans to build a wall along the US-Mexico border.

Iran's foreign ministry said it would "respond in kind after the insulting decision of the United States concerning Iranian nationals" until the measure is lifted. It said the decision was "illegal, illogical and contrary to international rules". More than a million Iranians live in the United States.

In Khartoum, the Sudanese foreign ministry expressed its "regret" at the US ban.

The EU's traditional power couple France and Germany expressed mounting alarm Saturday at key decisions by Trump in his first week in office, saying they raised many issues of concern. French President Francois Hollande vowed a 'firm' response to a growing list of pronouncements by the maverick tycoon, including his encouragement for Brexit and suspension of all refugee arrivals.

"We must conduct firm dialogue with the new American administration which has shown it has its own approach to the problems we all face," the French leader said after a meeting of southern EU countries in Lisbon, flanked by fellow leaders.

Another EU founder member, Luxembourg, also said Trump risks bolstering "hatred towards the West" by slapping tight new controls on travellers from seven Muslim countries including war-wracked Syria.

Hollande spoke out a day after Trump called Britain's decision to leave the European Union a 'wonderful thing'. "When he talks about Brexit being a model for other countries, I think we must respond," he said, adding that Trump's 'protectionist' measures could "destabilise economies not just in Europe but the economies of the main countries of the world".

The US State Department, which with the Department of Homeland Security will have to implement the policies, said it was ready to put them into immediate effect.

"We will announce any changes affecting travellers to the United States as soon as that information is available," spokesman Mark Toner said. "We take seriously our responsibility to safeguard the American public while remaining committed to assisting the world's most vulnerable people."

Trump's order also cut the number of refugees the United States plans to resettle in fiscal year 2017 from 110,000 to 50,000. During the ceremony, he also signed an order to 'rebuild' the US military and watched Vice President Mike Pence swear in former Marine general James Mattis as his new secretary of defence.

Green card holders

New restrictions on immigrants and refugees will mean legal permanent residents, also known as green cards holders, from Syria and six other Muslim-majority countries will have to be cleared into the United States on a case-by-case basis, a senior US administration official said on Saturday. In a briefing with reporters, officials defended the scope and execution of the new executive order signed by President Donald Trump on Friday, a move that has caused chaos and alarm at airports.

An official said Afghanistan, Malaysia, Pakistan, Oman, Tunisia and Turkey were Muslim-majority countries not included in the order.

US 'resistance' movement

A social media "resistance" movement is taking shape against the Trump administration, inspired by the new president's efforts to control information.

It began after the deletion of tweets and data from official US accounts and websites which proved embarrassing to the new president, including government reports on climate change, which have been challenged by President Donald Trump.

Some took to Twitter with 'alternative' handles -- claiming to be federal employees exercising their free speech rights -- and the resistance mushroomed into a movement.

The seeds of rebellion were first planted by the National Park Service, which came under fire from the new administration for its photos comparing crowd size at Trump's inauguration to the event eight years earlier with Barack Obama.

After those tweets were deleted, tweets from one national park's account -- which according to some reports came from a former employee -- offered links to climate change studies, and when those were removed, a new @AltNatParkSer sprung up and amassed 1.2 million followers in a matter of days.

The account is described as "The Unofficial #Resistance team of US National Park Service."

"We don't want any trouble. We just want to keep peer-reviewed 'factually accurate' climate science flowing out of US institutions," the group said in one of its first tweets.

Over the next few days, dozens of "rogue" or "alt" Twitter accounts emerged, including @RogueNOAA (for the National Oceanic and Atmospheric Administration), @RogueNASA (for the space agency) and @alt_fda for the Food and Drug Administration.

Published in The Express Tribune, January 29th, 2017.
COMMENTS
Comments are moderated and generally will be posted if they are on-topic and not abusive.
For more information, please see our Comments FAQ