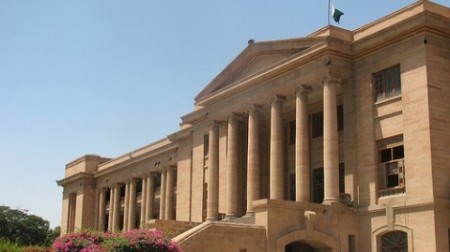 ---
KARACHI: The Sindh High Court has asked the family of missing persons whether they would be satisfied if it sent their case to the commission formed by the Supreme Court to probe the matter of the missing persons case.

On Thursday, the SHC's Justice Amir Hani Muslim and Justice Syed Zakir Hussain fixed May 31 for the hearing of identical petitions seeking the whereabouts of four young people from Karachi who have been missing since February 2009. Mohammed Iqbal, Sumat Gul, Abdul Hamid and Zainuddin went to Bagh Ibn-e- Qasim on Feb 26, 2009. While heading home after Maghrib prayers at Abdullah Shah Ghazi's shrine, they were taken away in five unnumbered vehicles by plainclothes men from an intelligence agency.

On Thursday, Sindh Home Secretary Arif Khan appeared in response to a show-cause notice issued by the court on April 2, 2010 for not complying with previous orders to file his affidavit. Filing the affidavit, Khan submitted that on the orders of the Supreme Court a three-member judicial commission comprising three retired Supreme Court judges had already been formed by the Interior Ministry to investigate all such cases. To this effect, the Interior Ministry had already issued an official notification.

The SHC directed the Deputy Attorney General to submit a copy of an official notification issued by the Interior Ministry on the formation of a judicial commission to investigate the cases of missing persons in compliance with the Supreme Court's orders. A petitioner's lawyer, Maqboolur Rehman, contended, however, that if the judicial commission was in Islamabad the relatives would have to make frequent visits.

He stated that their grievance could not be addressed merely with a statement from the Home Secretary. The SHC division bench then directed DAG Umer Hayat Sindhu to submit a copy of the Interior Ministry's notification purportedly issued to constitute a judicial commission. The SHC directed the petitioner to inform the court if he was satisfied with the judicial commission or if he wanted otherwise.

Published in the Express Tribune, May 14th, 2010.