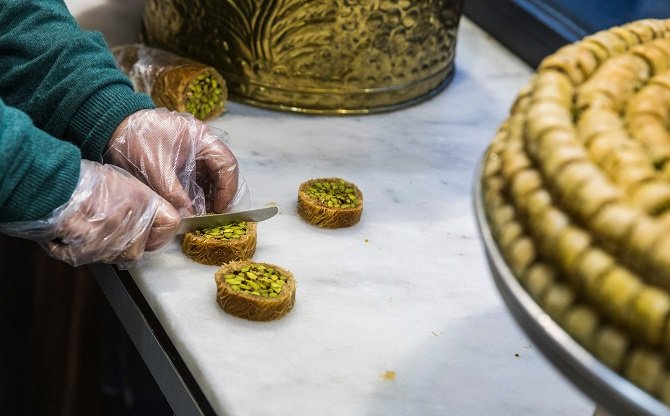 ---
BERLIN:
A Syrian family of pastry chefs, the Sakkas, once delighted the people of Homs with their sugar-soaked Levantine delicacies, until a rain of bombs turned them into refugees. Now, after a four-year odyssey, they have reopened the family's sweet-tooth haven in Berlin, a baklava shop called the "Damaskus Konditorei".
In a bittersweet tale of war, loss, exile and rebuilding, the family was granted asylum in Germany and, against the odds, opened their new patisserie last summer. "Even though it's very difficult to find a job in Germany, we said, 'let's go and try!'" said Tamem, 42, the youngest of three brothers.
Four years have passed since the Sakkas fled Homs, Syria's third biggest city, which became a rebel bastion early in the war that started in 2011. Suffocated by a long army siege, the city saw fierce fighting that pushed many of its residents to leave everything behind and run.
Syria rebels arrive in Astana for talks with regime
The family of 16 - the three brothers, Salim, Rami and Tamem al-Sakka, with their parents, wives and children - first fled to Lebanon, then Egypt. They made it to Berlin over two years ago with hopes for a better life, like more than 600,000 fellow Syrians who have gained safe haven in Germany.
 Master artisans 
In their flight, all they could carry was the know-how passed down by their father, Suleiman, 83, who founded the Homs pastry shop more than 40 years ago. The sweet fruits of their labour are on mouth-watering display on large metal trays - pyramids of small green nut cakes, covered with shredded pistachio and moistened with rose water. The aromas of orange blossom and almond waft through the room, the eye lingers on shredded pastry bird nests called esh al-bulbul, and maamoul shortbread filled with dates, pistachios or walnuts.
Before Syria's deluge of fire and death, the country was known throughout the Middle East for the refinement of its sweets. "This is due to the quality of raw materials, such as Aleppo pistachios," explains French-Syrian pastry maker Myriam Sabet, who runs the Maison Aleph patisserie in Paris. "And to the ancestral know-how of the master artisans who jealously guard their manufacturing secrets."
In Syria, different cities - whose names now evoke the horrors of war and suffering - have long been associated with their regional specialities. While the capital Damascus loves barazek honey pistachio and sesame cookies, the commercial centre of Aleppo was known to have a weakness for nougats and almond. The jewels of central Homs and Hama are sweet cheese rolls known as halawet el-jibn.
"At first my brother said to me, 'Let's not make this dessert, the Germans won't like it, it's too heavy for a pastry," said Tamem. But he was proved wrong and now says Berliners can't get enough of his sugar treats.
 'Music, language, pastry' 
During a recent visit, most customers were Syrians eager for a taste of home, a cheese pastry called kunafeh soaked in sticky syrup. Some who have lost everything say they feel taken back to peacetime Syria, the memory of afternoons in the shade of bougainvillea.
"Only music, language and pastry can transport you to these pleasant memories, it's universal," smiled Sabet. Many German customers, who gingerly peek into the shop, go on to take their first steps on a new culinary journey of discovery. "When they come in here, they watch, sometimes they seem afraid!", laughed Tamem. "What they like is the baklava", he added, pointing to Syria's signature pastry made of layers of filo, stuffed with chopped nuts and held together with honey.
Losing in Iraq, Islamic State seeks to shore up Syria presence
The artisan's eyes grow misty when he thinks about Syrian pistachios - "the best in the world" - which he can no longer grate to produce his delicacies.
The Sakkas now get their nuts from Turkey, and their cheese from Italy. "In Homs, our shop employed 40 people, the pastry was laid out on 150 square metres (1,614 square feet) on two floors, and on top of that we had a big workshop", Tamem recalled with nostalgia.
The more modest Damaskus Konditorei is located on a Berlin avenue nicknamed the capital's "Arab street" - a long way from the 13th century souks of Homs, filled with the scent of spices, perfumes and pastries.
For now, home is just a sweet memory for the Sakkas.
COMMENTS
Comments are moderated and generally will be posted if they are on-topic and not abusive.
For more information, please see our Comments FAQ