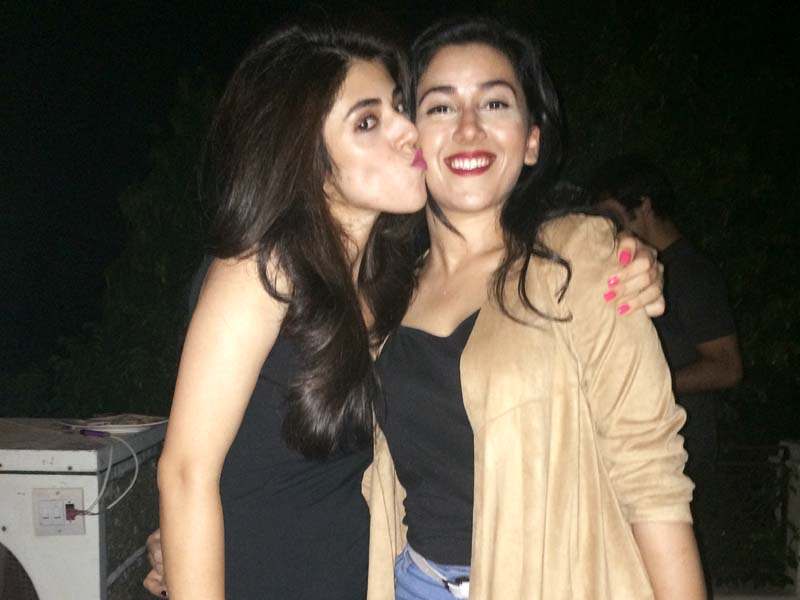 ---
Marya Javed, subeditor at the blog 'A Wardrobe Affair' and content head at Khoosat Films, and Anber Javed, blogger and founder of 'A Wardrobe Affair', rehash their childhood. From tea in the scorching heat of Bahawalpur to an adventurous trip to Dubai, to now working together and sharing a love for fashion — these siblings share it all!

What is your first memory of each other?

Marya: Getting on the school bus and rushing to the two front seats together.

Anber: Sitting in a murghi ka darba (which was our little Wendy House) and having tea in the scorching heat of Bahawalpur.




What is the craziest thing you have done together?

Marya: Once we caught a connecting flight to Istanbul with only a 30-minute layover in Dubai. She sprinted from one terminal to the other, at opposite ends of Dubai Airport! And I mean, sprinted. #Gangster

Anber: On our first trip to Dubai, I came back with a lost toenail (I never figured out how that happened) and she came back with a broken glass in her foot. It was nothing short of a roller coaster ride.

What did you get punished for the most as a child?

Marya: For telling my maulvi sahib to give me a day off while my mother took an afternoon nap.

Anber: I was quite a well-behaved child. I wasn't punished much except for when I would beat up my younger brother.

If you could only wear one piece of clothing for the rest of your life, from the others closet, what would it be?

Marya: A gorgeous, camel-coloured, wool coat she owns. It's from Zara's hand stitched collection — I've never seen a prettier coat!

Anber: Her purple sharara from Generation.

If you could swap places with each other, what's the first thing you would do?

Marya: I would go on a Euro trip for a month. Sister's rich and she needs a holiday!

Anber: Celebrate my new, envy-provoking head of hair.

What is the one thing you love about your sister?

Marya: She is one of the most sincere people I know, and her sincerity is not something she only reserves for certain people. I hope she can hold on to that!

Anber: She is a very headstrong yet kind-hearted woman.




If you are fighting with each other, how do you make up?

Marya: It varies. Like right now, we are making up by filling out this questionnaire.

Anber: First we unblock each other from social media, which is followed by reconciliation Whatsapp messages.

What is the one secret talent your sister has, that you wish you had too?

Marya: An unfailing, untiring eye for detail! I am detailed too, but she will pick up on things most people would miss. She is also willing to go the extra mile to fix it, sometimes unnecessarily so, but it's her greatest strength.

Anber: She has mastered the art of putting together a fashionable look without breaking the bank.

Describe your sister in three words:

Marya: Hard working, driven and honest.

Anber: Super-smart, witty and competitive.

Which fictional character is your sister most like?

Marya: Jules Austin from The Intern.

Anber: Lisa Simpson from The Simpsons.




How are your personalities similar?

Marya: We are possibly the two most professional people I know, which is why our threshold for unprofessional behaviour is very low (apologies to the victims). We are also both extremely emotional and are interested in a little bit of everything.

Anber: We are both very opinionated, committed to our work and have the same taste in fashion.

I can't live without my sister because…

Marya: Because no one, repeat, no one, knows and understands you better than your siblings. I know siblings who are not close, but I feel that can be attributed to a lack of communication. I am very close to both my siblings.

Anber: Because there is nobody who gives me better fashion and life advice.
COMMENTS (1)
Comments are moderated and generally will be posted if they are on-topic and not abusive.
For more information, please see our Comments FAQ