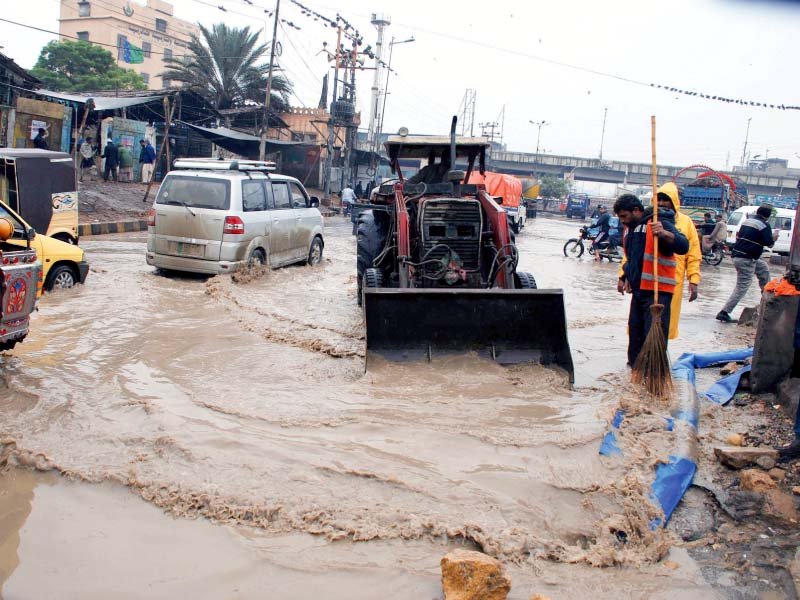 ---
KARACHI: Poor management on part of the municipal bodies and the government turned moderate rains in Karachi into a misery on Saturday.

As the downpour continued incessantly for the second day, traffic on most roads remained slow and electricity supply remained erratic. The rainfall is likely to slow down today (Sunday) when the weather is forecasted to be cloudy or partly cloudy, said Pakistan Meteorological Department director Abdul Rashid.

The highest rainfall was recorded at PAF Masroor Base (52mm), followed by PAF Faisal Base (51mm), said Rashid, adding that 45mm of rainfall was recorded in Nazimabad, 34mm in Gulistan-e-Jauhar, 33mm in North Karachi and 15.5mm in Landhi.

Most major roads were submerged in rain and sewage water and the drainage system failed to work. The worst traffic jam was seen on University Road, which is under construction. It was not possible for anyone to leave this area in the morning as the entire University Road was flooded and no government official was present, complained a Safoora Chowrangi resident, Shuja Hashmi.

The main road at Hasan Square, near Micasa Luxury Apartments, had also sunk and many cars were stuck there for several hours. Salman Samad, who was making his way to Gulistan-e-Jauhar, said that the entire Hassan Square area was flooded with rain water and no government machinery was present to drain the water out and help retrieve the sunken cars.  The Liaquatabad Underpass also developed a leak so only one track was open for traffic. Sharae Faisal was also flooded and only two lanes of the main artery were functional at FTC and Drigh Road. Natha Khan Bridge and Korangi Road also presented the same picture.

Power outages

The continued rain also led to a breakdown of electricity supply in parts of DHA, Clifton, Saddar, Malir, Shah Faisal Colony, Gulistan-e-Jauhar, Gulshan-e-Iqbal, North Karachi, North Nazimabad, PECHS, Landhi, Korangi and Gadap.

"It's very strange that the K-Electric system trips during every spell of rainfall and yet there are no improvements," pointed out Ashar Shahzad of Shah Faisal Colony, who did not have electricity at his house since Friday evening.

"Our neighbourhood was enveloped by darkness which spoiled the joy of the good weather," said Gulistan-e-Jauhar resident Muhammad Fatir.

Murtaza Lashari of DHA Phase V reported his area did not have electricity supply for more than 10 hours on Saturday. "There is no electricity so the water supply is affected and the power fluctuation ruined some of our appliances," he complained. For its part, K-Electric communications director Sadia Dada told The Express Tribune that the continuous rain spell hampered the restoration work. A little more than 100 out of 1,400 feeders in Karachi were affected between Friday night and Saturday. By Saturday evening, only 50 feeders were affected, she said.

Official visits

In late attempts to do some damage control, Sindh Chief Minister Murad Ali Shah, Local Government Minister Jam Khan Shoro and Karachi Mayor Wasim Akhtar made rounds of the city. Akhtar demanded the Sindh government release funds to clean 30 major nullahs of the city.

Shoro felt the rain aftermath appeared better than previous years when the entire city came to a standstill. If the city is unplanned and full of slums, such problems arise, he reasoned. "It has been raining for the last 24 hours but cars are still plying normally on roads," he said, adding that the Sindh government released Rs500 million to clean all nullahs last year.

Similar views were shared by Shah who termed the situation 'comparatively better' due to the cleaning of some nullahs and removal of encroachments. Shah pointed out that Pitcher and Gujjar nullahs were flowing smoothly. As for the mayor, Shah said he has enough powers to serve the people.

Published in The Express Tribune, January 15th, 2017.
COMMENTS
Comments are moderated and generally will be posted if they are on-topic and not abusive.
For more information, please see our Comments FAQ