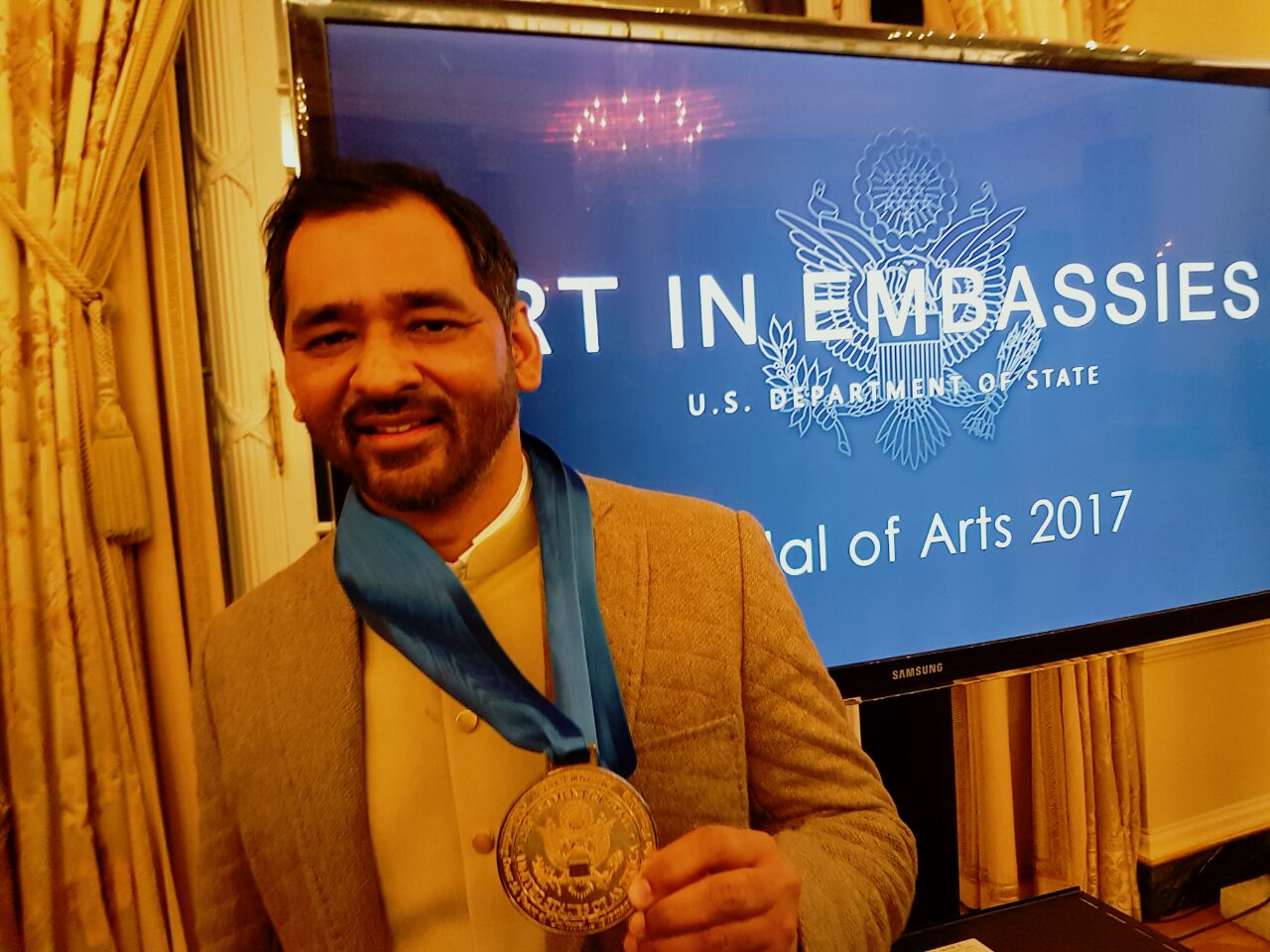 ---
KARACHI: Internationally-acclaimed Pakistani artist Imran Qureshi has been honoured with the US State Department's Medal of Arts Award.

According to a press release, he was conferred the honour at a ceremony hosted by Deputy US Secretary of State Antony Blinken in Washington DC on Thursday at the State Department's historic Benjamin Franklin Room. Other awardees for the year include Nick Cave, Jenny Holzer, Wolf Kahn and Rachel Whiteread.

With a career spanning over two decades, Qureshi has worked in miniature painting, installation art, and video art. His work combines traditional motifs and techniques with current issues and the formal language of contemporary abstract painting.

Buoyant Assemblage: Exploring the female form in a spectrum of colours

The honour was initiated by Art in Embassies in 2013 to formally acknowledge artists who have played an exemplary role in advancing the US State Department's mission of promoting cultural diplomacy through visual arts and international cultural exchange.

Speaking on receiving the award, Qureshi said he felt ecstatic about Pakistani art being recognised. "It is not just for me but for Pakistan. This especially holds true for the nation's contemporary art scene. The reality is that the West is only exposed to Pakistan through what their media tells them, this is often one-sided and myopic."

He said there was a whole side to Pakistan that the world ought to see. "Contemporary art is the most exciting thing happening in Pakistan courtesy the diversity of ideas, concepts and approaches," Qureshi said.

Meet Iqra Arif, the girl with the golden voice

He added, "As an artist, I have always assumed a sense of responsibility to make a significant contribution to furthering harmony between different cultures and countries. As a Pakistani I am proud to accept the award in the spirit of making this world a better place through art for our future generations."

US Secretary of State John Forbes Kerry said, "The exhibitions, permanent collections and artist exchanges connect people from the farthest corners of the international community. Extending our reach, amplifying our voice, and demonstrating our inclusiveness are strategic imperatives for America."

The journey of Karachi's art scene

Qureshi currently teaches miniature painting at Lahore's National College of Arts. His most recent works include an installation for the Metropolitan Museum of Art for their annual Roof Garden Commission. He was also named Deutsche Bank Artist of the Year in 2013 with an exhibition at the Kunsthalle in Berlin, Rome's Macro Museum and Birmingham's Ikon Gallery in 2014.



Correction: An earlier version of the story incorrectly mentioned Imran Qureshi as the first Pakistani to win the US State Department's Medal of Arts. The error has been regretted.  



Have something to add in the story? Share it in the comments below.
COMMENTS (1)
Comments are moderated and generally will be posted if they are on-topic and not abusive.
For more information, please see our Comments FAQ