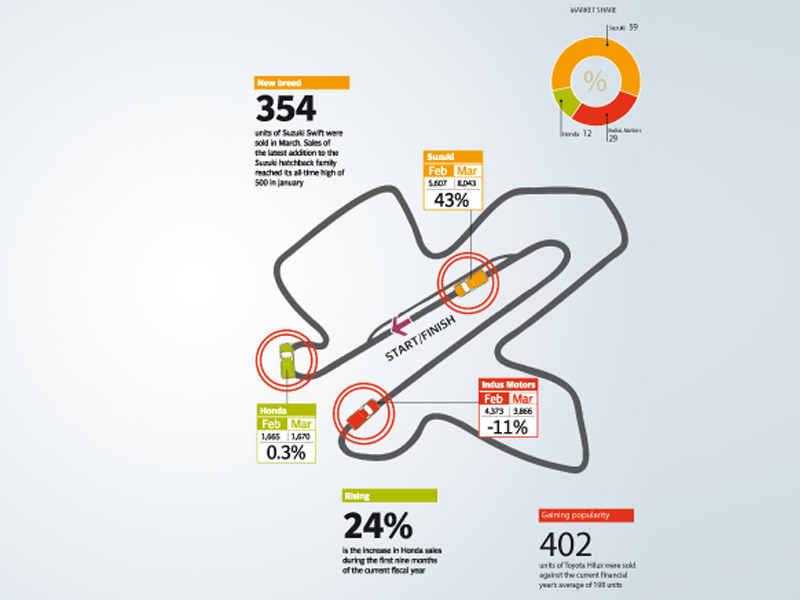 ---
ISLAMABAD: Inflation rose 13.3 per cent in April compared to the corresponding month in the previous year because of high food prices, telecom rates and rising house rent, reported the Federal Bureau of Statistics (FBS) on Wednesday.

Inflation, measured by the Consumer Price Index, a leading indicator, has been in double digits for several months. Food and beverage prices, which carry 40 per cent weight in the commodities' group, increased 14.6 per cent in April. "The market mechanism has failed due to the government's intervention in the commodities market," said John Wall, Country Manager of the World Bank.

The yawning gap between the government's income and expenditure was also pushing up the prices of goods and services, he said. John Wall said that the government was spending more than its revenues by printing or borrowing money, which was inflationary. The break-up of the food and beverage group showed that the major increase during April was recorded in prices of tomatoes. Its rates increased by over 68 per cent. Onion prices surged by 43.3 per cent, mash pulse almost 15 per cent, fresh fruits 10.9 per cent, vegetables 9 per cent and beverages 6.8 per cent.

John Wall said that the government's intervention in the commodities market was creating problems. "The policy of fixing commodities prices like wheat above market rates is inappropriate, which destabilises market mechanism." House rent, which carries about one-fourth weight, soared 11.3 per cent. According to official statistics, prices of fuel increased by 16.7 per cent and transport and communications by over 20 per cent during April compared to the same month last year.

In the transport and communications group, major increase was recorded in call charges, which soared by over 37 per cent. Air fare also increased by 6.6 per cent. The FBS stated that the prices of goods and services increased by an average of 11.5 per cent during July- April of the current fiscal year 2009-10 compared to the same period of the last fiscal year. In the last fiscal year, average inflation during the first 10 months was 22.35 per cent.

According to a latest survey of the Pakistan Institute of Development Economics, average inflation by June will remain above 15 per cent, three per cent more than the revised government projection of 12 per cent. On a monthly basis, prices of goods and services increased by 1.73 per cent in April over March 2010, reported the FBS.

Published in the Express Tribune, May 13th, 2010.
COMMENTS
Comments are moderated and generally will be posted if they are on-topic and not abusive.
For more information, please see our Comments FAQ