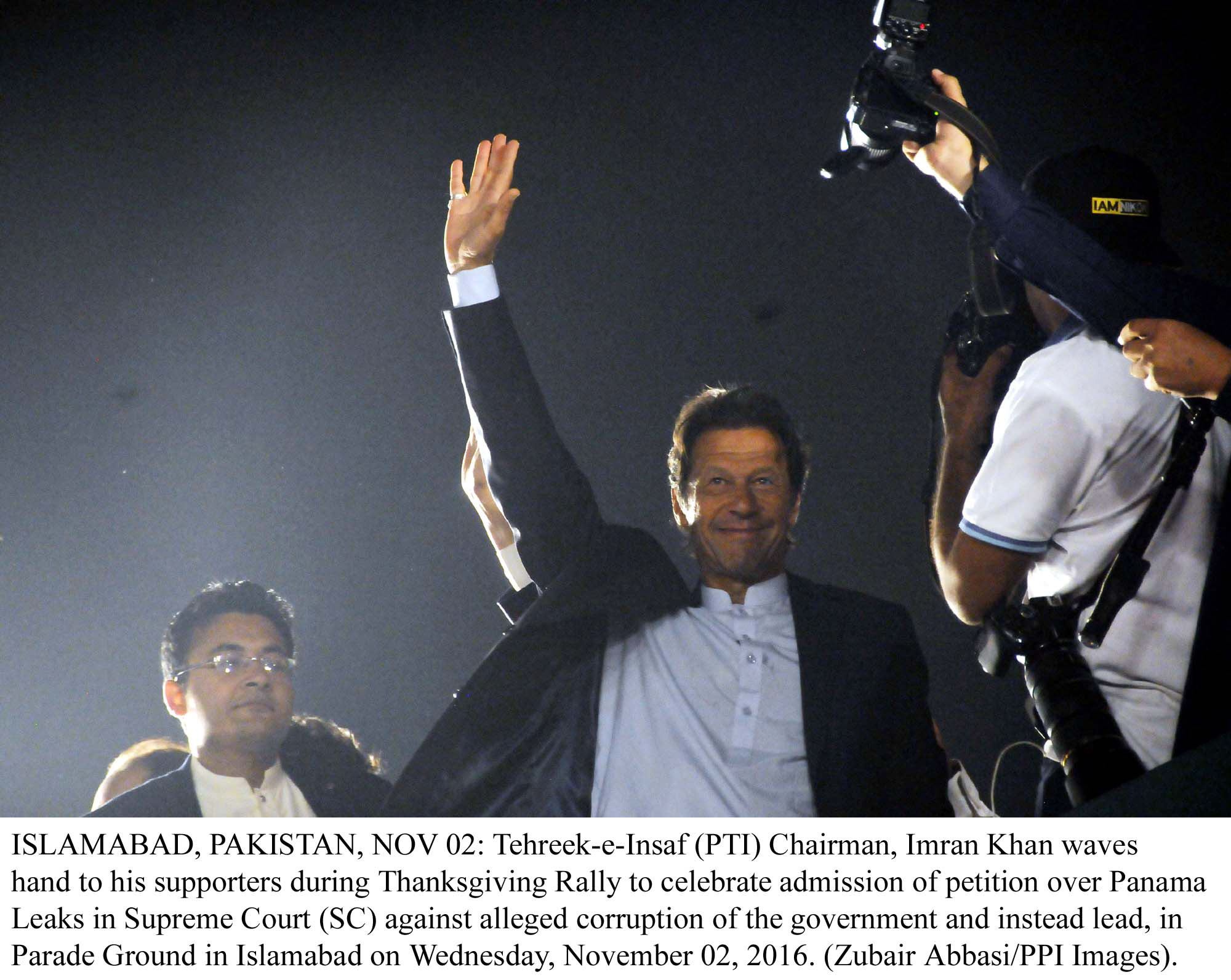 ---
KARACHI: Imran Khan has vowed that he would hold Prime Minister Nawaz Sharif accountable in the Panama leaks scandal and expressed confidence in the Supreme Court.

The PTI chief said this while addressing a party workers' convention on Kashmir Road's Noor Ground.

PTI ready to join opposition grand alliance on Panamagate: Imran

Imran said that his party is struggling for a system of equality and justice in the country and added that the day is not far when the PTI will achieve its goal.




He mentioned that a few families have been enjoying the resources of this country because of the system, which suppressed the lower middle class. He clarified that the reason why the children of the lower middle class cannot come forward in many fields is because of the unequal education system. He told his party supporters that the country must have an equal education system, where a child belonging to any class can come and get an education.

Imran in his address also counted economic injustice as another form of injustice in the society. According to him, there are great examples of economic injustice where the rich are getting richer, while the poor have no say in the country.

He added that all the taxes are imposed on the lower middle class, while the elite of the country pays very less amount of tax. He also criticised Prime Minister Nawaz Sharif over his tax record, saying that despite his riches, he paid a paltry sum of Rs5,000 a few years ago.

He hit out at the government by saying that they were only focused on taking more and more loans, while the people had to pay back these loans. For every one rupee, the PTI chief said, 70 paisas are for paying back these loans and unfortunately people have to bear this cost. This will lead us to economic disaster, according to the PTI chief.

This script reveals the truth about Panama Leaks

His party's vision is to eliminate all injustice from the society and ensure a system of equality and justice. Imran said that the day is not far when  people will be able to see the new Pakistan with all these improvements.

Imran also asked the workers and supporters of his party's Karachi chapter to work on expanding the membership of the party.

Imran also announced that PTI candidates would also contest the by-elections against PPP co-chairman Asif Ali Zardari and party chairman Bilawal Bhutto Zardari.

Published in The Express Tribune, December 31st, 2016.
COMMENTS
Comments are moderated and generally will be posted if they are on-topic and not abusive.
For more information, please see our Comments FAQ