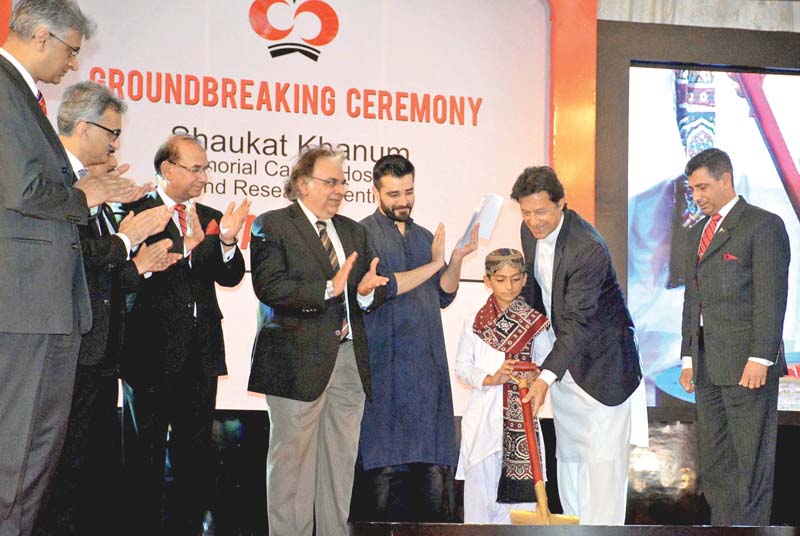 ---
KARACHI: The groundbreaking ceremony of the third Shaukat Khanum Cancer Hospital in the country was performed by a 10-year-old cancer patient, Waleed Iqbal. Together with Shaukat Khanum Memorial Trust (SKMT) board of governors chairperson Imran Khan, Waleed unveiled the groundbreaking plaque on Thursday.

Waleed and many other cancer patients from Sindh and Balochistan previously had to travel to Lahore for cancer treatment but now patients will not have to bear expense of accommodation and travelling with the establishment of a cancer hospital in Karachi.

The ceremony, which was held at the site of the hospital in Defence Housing Authority (DHA) City near the Superhighway, was attended by board members of the SKMT, the hospital's senior management, dignitaries, donors and celebrities.

Imran performs groundbreaking of Shaukat Khanum cancer hospital in Karachi

The hospital will be built on 20 acres of land allotted by DHA, for which we are very grateful, said SKMT's chief executive officer Dr Faisal Sultan. He told participants that the total cost of constructing the hospital is Rs4.5 billion and the facility will be completed on December 29, 2019.




Dr Sultan added that the hospital will have the similar state-of-the-art facilities as are being provided at the other Shaukat Khanum hospitals in Peshawar and Lahore. This includes surgery, radiotherapy, chemotherapy, hormone therapy and biological therapy facilities. The hospital will enhance and raise the healthcare standards in the region, claimed Dr Sultan.

Highlighting the details of the project, Dr Sultan said the new facility will have operating rooms, an intensive care unit, a chemo-bay facility, inpatient rooms, and outpatient clinics, initially. The hospital will have nine clinical departments - medical oncology, paediatric oncology, radiation oncology, brachy-therapy, CT simulation services, surgical oncology, anaesthesia, radiology with CT scanners, MRI scanners, X-ray machines, fluoroscopy, ultrasound machines, mammography scanners and a PET CT scanner. The pathology department will have haematology, clinical chemistry, microbiology, cytology, and a blood bank.

Shaukat Khanum Memorial Cancer Hospital inaugurated in Peshawar

He added that this enormous facility would open up opportunities for oncologists, doctors, nurses and other health professionals to get training in the management, diagnosis and treatment of cancer.

Dr Sultan said around 75 to 80% of the patients at the facility are treated free of charge, while the remaining 20 to 25% of patients pay their own expenses. He also clarified that the hospital's income depends on 40 to 45% of the revenue it generates, 25% on zakat and 35% on other donations.

Khan recalled that in the 1990s he had a meeting with the top 20 doctors of the time to discuss the idea of a cancer hospital to provide free treatment to patients but only one of those twenty doctors supported my idea and suggested that establishment of the hospital was possible but it would not be feasible to treat patients for free.

"It is unbelievable that we are here at the groundbreaking ceremony of third cancer hospital in the country while people were uncertain about the first one in Lahore," said Khan. He added that in India a cancer hospital owned by the Tata Group accommodates only 20% patients free-of-charge, but Shaukat Khanum has been accommodating more than 75% patients free-of-charge, which is a real achievement.

Imran invested Shaukat Khanum donations in offshore companies: PML-N leader

"It's about setting a goal with full determination," said Khan, adding that by doing this you will see how things work out for you. It is an honour that we have maintained our ideology of serving the under privileged and it also involves hard work of the people involved with Shaukat Khanum, he said. DHA administrator Brigadier Shahid Hasan Ali said it is about securing the future of the next generation by providing them with the best healthcare facilities. Brig Ali added that DHA City is eager to have the best healthcare facility, which is why they welcomed SKMT's cancer hospital.

Published in The Express Tribune, December 30th, 2016.
COMMENTS (3)
Comments are moderated and generally will be posted if they are on-topic and not abusive.
For more information, please see our Comments FAQ