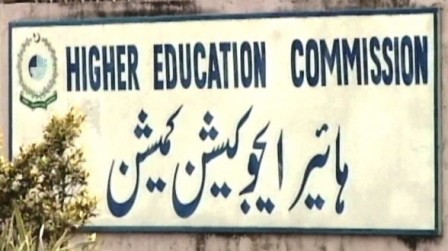 ---
LAHORE: Two dozen faculty members at public-sector universities in Punjab are working on administrative positions under the tenure track system (TTS) in violation of the Higher Education Commission's (HEC) orders.

Despite specific instructions against it, 24 faculty members at state universities across the province continue to work on the administrative posts.

In April, the HEC had written a letter to all vice-chancellors and rectors of higher education institutions in Pakistan not to assign administrative positions to faculty members hired on TTS basis.

The letter written by the HEC stated the TTS faculty was paid better than their counterparts for focusing on research. The rules, therefore, barred them from holding administrative positions.

Before April, 34 TTS faculty members were holding administrative positions at universities in Punjab. After the HEC's letter, some universities took action and took away the additional administrative charge from their faculty members.




In another letter by the HEC in October, the public universities were asked to provide details of TTS faculty members still working on administrative positions. "All public sector universities or degree-awarding institutes [should] provide details of TTS faculty members, who have been assigned additional, acting or look-after charges of administrative positions such as registrar, treasurer, controller of examination and research office director," the letter stated.

Of the 24 TTS faculty members still holding administrative posts, the highest number was recorded at the University of Engineering and Technology (UET) Lahore followed by the University of Agriculture Faisalabad (UAF), the responses received by the HEC from universities reveal.

Eleven TTS faculty members are working on administrative posts at UET. The varsity administration has re-assigned duties of three TTS faculty members while another faculty member opted for the BPS track, opting out of the TTS. The move has changed the total faculty members on administrative charge at UET to seven.

At the UAF, nine staffers are working on administrative posts while being on tenure track, six are working at the Fatima Jinnah Women University, Rawalpindi while Islamia University, Bahawalpur and University of Punjab, Lahore both have one TTS faculty members working on administrative posts.

The HEC letter circulated in April stated: "If a faculty member assumes an administrative post in the university, such as registrar, human resource director or treasurer, etc, the period of which he/she remains on that post shall not be counted toward his/her TTS service on tenure or tenure-track and during that period he/she will not be eligible to draw TTS salary."

After June 30, 2014, the letter continued, if a faculty member on tenure track assumed responsibility of academic administrative position of director research, dean of a faculty or head of a department, the period of holding such an appointment shall not be counted toward their TTS probation period and they would not be eligible to draw their TTS salary.

In response to the HEC's letter, the UET and the Lahore College for Women University re-assigned two TTS faculty members on other positions while the Government College University and the University of Sargodha re-assigned duties of one TTS faculty member each.

Published in The Express Tribune, December 26th, 2016.