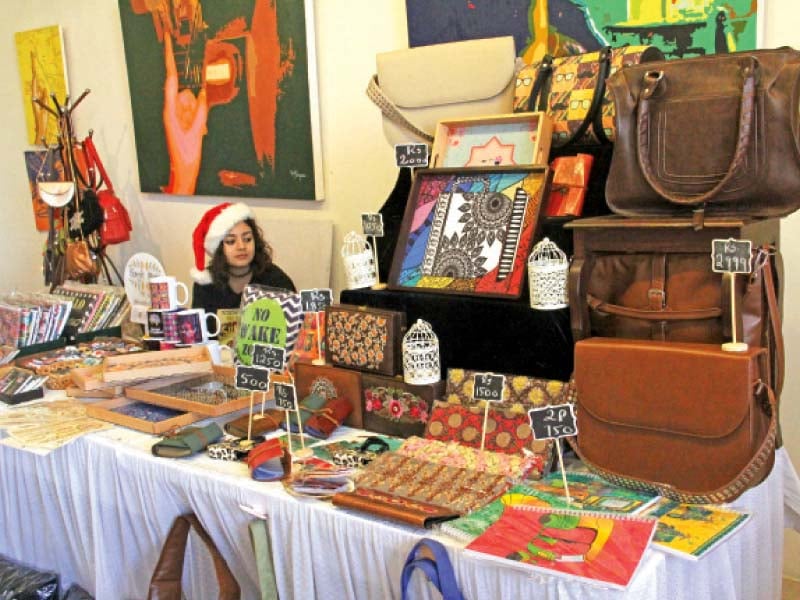 ---
KARACHI: To celebrate the spirit of Christmas, ArtChowk Gallery hosted a two-day event, titled 'Christmas Crafts', which opened on Friday.

Handmade crafts perfect for the holiday season were put on display, including ceramics, pottery, hand embroidered table linens, body and bath products, jewellery and contemporary khussa designs among others.

Speaking about the theme of the show, ArtChowk Gallery co-owner Laila Premjee remarked, "I love Christmastime and have always celebrated it. Whether I am in Karachi or touring a foreign location, I make sure I celebrate it wherever I am".

She added, "Christmas is such a festive season and you get a special feeling when buying gifts for your loved ones for this holiday".

The show itself showcased a myriad of handmade crafts by various artisans such as Kashaf Shamim who used recycled paper to create gift bags and Anees Unus's showcased gold-plated handmade jewellery.

Unus claimed that she does customised pieces for her clients. "For the past 10 years, I have been exhibiting [my work] before Eid holidays, however, this is my first Christmas display."

Maha Anjarwala's baked delights, such as cupcakes, cookies, milk chocolate brownies and dark chocolate brownies, enticed the taste buds of the visitors.

Premjee explained that she ensured that the exhibition was aimed at displaying artistic and creative items and not just clothes. "I made sure it [the exhibition] wasn't about clothes. I wanted to focus on arts," she remarked, adding many home-based entrepreneurs who are quite popular online have exhibited at the show.

Published in The Express Tribune, December 25th, 2016.