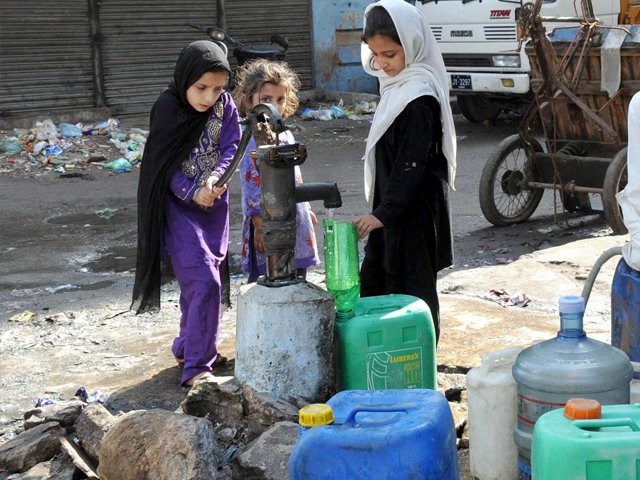 ---
ISLAMABAD: With water increasingly becoming a scarce commodity, the capital's local government (LG) on Friday decided to move forward with a proposal to Rs5,000 fine residents who waste water.

The decision won unanimous approval from Islamabad Metropolitan Corporation (IMC) members, who met on Friday for its eighth meeting.

Meeting under IMC Mayor Sheikh Anser Aziz, the ongoing water crisis in the capital was at the top of the agenda.

During the session, Aziz suggested that fines should be imposed on households who waste water.

The house unanimously endorsed the proposal.

Even opposition leader, Pakistan Tehreek-e-Insaf's (PTI) Ali Nawaz Awan, backed the scheme. He said, "It is a good idea to deal with unnecessary wastage and check misuse of water. This plan should be put into action."




G-9 Union Council (UC) Chairman Malik Rafiq said that a lot of water was misused or wasted in the capital and steps should be taken to put it to an end.

In this regard, it was decided that a fine of Rs5,000 would be imposed on violators. However, the house did not decided on the parameters of water wastage and whether it would be a flat fine or staggered.

UC Chairman Naem Gujjar said that his sector usually draws water from tube wells. However, with most tube wells out of order, supply had become problematic. He warned that unless the situation was rectified, shortage in the area would be aggravated next summer, when demand peaks.

During the session, suggestions on building more water reservoirs in the city were also deliberated. At this, Deputy Mayor Zeeshan Naqvi suggested that 'rubber dams' should be constructed between every two union councils to overcome water shortage.

Noting the mushrooming of illegal water connections in the capital, the IMC deliberated on whether they should be regularised.

Deputy Mayor Azam Khan also presented the Committee House report on water, which was appreciated by the house.

Sanitation system

Aziz also briefed the house about the steps taken to upgrade the city's sanitation system.

In this regard, the mayor said that they would soon evolve a holistic solid waste management system in the city. Till then, contractors would continue to carry out sanitation duties in rural areas.

Kiosks

The matter of installing kiosks around the city was also discussed during Friday's session.

Briefing the session about the 485 kiosks approved for the city, the mayor said these would be installed after the IMC provides a specific design for these kiosks. He added these kiosks would not be allowed to encroach on space beyond what had been allotted for them.

He added that elected UC chairman should monitor the situation surrounding sanitation, kiosks and parks in their respective union councils.

IMC heading in right direction

Later Aziz told the media that in the time the IMC has been in power, hurdles for its work have been removed and a road map in this regard has been devised.

Talking about the shortage of water in the city, the mayor said that consolidated steps had been taken by the local government to address the issue.

Published in The Express Tribune, December 24th, 2016.