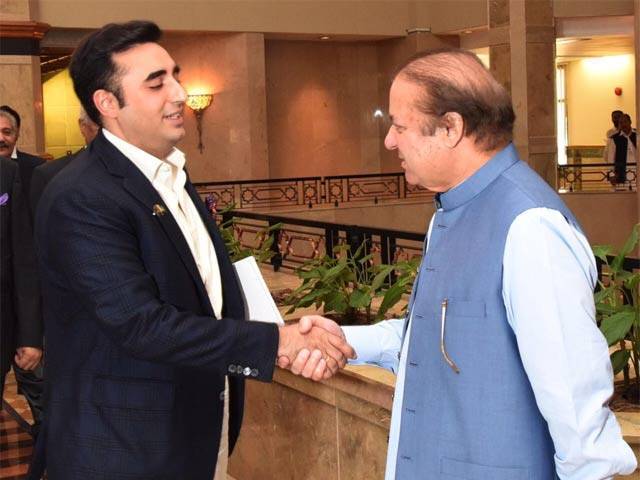 ---
SARAJEVO: Prime Minister Nawaz Sharif on Thursday said he is happy former president and Pakistan Peoples Party Co-Chairman Asif Ali Zardari is returning to Pakistan.

"Zardari will take care of the affairs of PPP. I enjoy good relations with Zardari and the PPP, and I would want those relations to continue," he told reporters.

Nawaz also took aim at his political opponents and said that despite the problems of sit-in protests, the government would eliminate load-shedding by 2018.  "The practice of staging dharna protests and taking back resignations has become common," said Nawaz.

PPP co-chairman comes home today

The prime minister also said that if a commission was formed, then its report should be made public. He said that he would personally look into the findings of the Abbottabad commission report.

Responding to a question as to how the year 2016 went for him, he said, "Alhamdulillah it went well, [though] it could have gone better." He added that if everybody performs their duties, Pakistan will perform better.

Prime Minister Nawaz said that his government will end in another one and a half year. "Our government worked. What did the people who had a seven-point agenda do? In their tenure the country was marred by load-shedding and terrorism," he said.

The prime minister vowed to solve the load-shedding problem by 2018 despite facing protests. He said protest had wasted nine months of the country. He added that he was working on fulfilling the objectives of his party manifesto.

Nawaz mentioned that a project of construction of 49 modern hospitals was actively being taken up and people in several districts have been issued health cards. He said transparency had been ensured in LNG and solar plant projects, and added that Rs100 billion from the national exchequer had been saved.




To a question on taking the four regulatory authorities under the government control, he said these bodies were meant to regulate the private sector, but these had started regulating the government. He said this approach by these authorities resulted in delay of several projects, which could not be afforded, and the decision was taken appropriately.

He said regulatory bodies have been kept under control of ministries in order to expedite projects and run affairs transparently. Nepra was meant to regulate private sector, however, it started to regulate government .Sharif said load shedding could not be dealt with till 2018 if we follow Nepra.

Zardari will return to Pakistan on Dec 23, announces Bilawal

He said never during the government of PPP, he made any attempt to derail the set-up. "Despite differences with PPP, my party did not adopt the policy of agitation and sit-ins," he said. "To run affairs of the country is not everyone's job, and particularly not for those with a habit of holding sit-ins."

Without naming Pervez Musharraf, the prime minister said even those with seven-point agenda could not make a positive difference and eventually left the nation behind with the curse of electricity load-shedding.

The prime minister dismissed the impression that the government was making effort to end power crisis to win votes in next general election. In fact, he said, his government was aiming to address all development issues, adding that he would continue the policy of bringing reforms in all sectors.

Published in The Express Tribune, December 23rd, 2016. 
COMMENTS (3)
Comments are moderated and generally will be posted if they are on-topic and not abusive.
For more information, please see our Comments FAQ