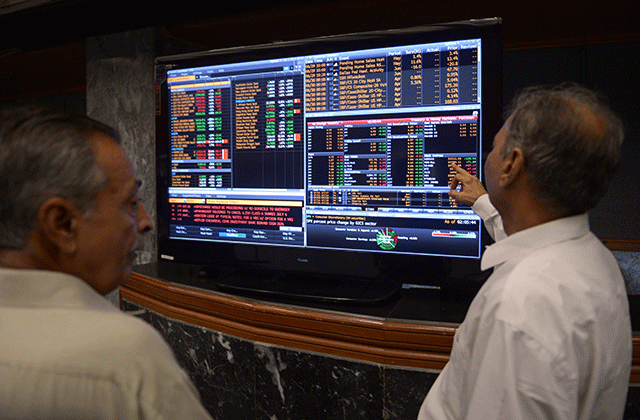 ---
KARACHI: A Chinese consortium won the bid for a 40% stake in the Pakistan Stock Exchange (PSX) with an amount of Rs8.96 billion or roughly $85.5 million, translating to Rs28 per share.

The consortium comprises the Shanghai Stock Exchange, Shenzhen Stock Exchange, Chinese Financial Futures Exchange Company Limited, Pak-China Investment Company and Habib Bank Limited.

The development, which means management control of the stock exchange's core operations goes to the strategic investors, was confirmed by the PSX divestment committee chairman Shehzad Chamdia Thursday.

Pakistan 'prioritising Chinese consortium' in PSX stake sale

The bid submitted by the Chinese consortium emerged as the highest and acceptable under the relevant Regulations, stated a press release issued by the PSX. "The divestment committee will now issue the Letter of Acceptance to the above consortium, subject to formal approval of Securities and Exchange Commission of Pakistan [SECP]."

The PSX had received four bids from interested parties after 19 investors conducted due diligence of the exchange. These were strategic investors from China, the UK and US, equity funds and local financial institutions including MCB Bank, National Bank of Pakistan, Faysal Bank Limited and Habib Bank Limited.

Under the divestment policy, the PSX would now offer another 20% (160 million) shares to the general public within six months of the completion of acquisition process by the strategic investors.

Brokers and analysts had estimated the sale price in the range of Rs25-35 per share.

Invest and Finance Securities said "the sale (of 40% stakes equivalent to 320 million shares} has enhanced the PSX value to $213 million from its original book value of $76 million."

PSX's benchmark KSE-100 Index dropped 0.62% to 46,699.78 points on extended profit-selling on Thursday. It has, however, advanced by around 40% in the outgoing calendar year 2016.

Brokers and analysts foresee the benchmark index at 55,000-60,000 points by December 2017.

Future anticipation

Nadeem Naqvi, managing director and CEO at PSX, said the other day that the bourse's divestment should increase investment base, upgrade technology, enable Pakistani companies to access international markets, and bring in more liquidity by introduction of derivatives.




Danish M. Owais, an analyst at Invest and Finance Securities, added that the sale would open a window for both local and foreign exchanges to access corresponding markets, meaning that investor base is likely to increase. For example, the Hong Kong and Shanghai Stock Exchange (SSE) connect initiative that aided local Chinese investors to trade via local Chinese brokers in Hong Kong listed companies and vice versa. The London Stock Exchange and SSE new connect initiative is another example.

Four strategic investors file bids for PSX stake

Secondly, the technological developments is including introduction of newer trading platforms which would ensure faster trading execution and handling etc.

Thirdly, sales would also create opportunity of cross-listing opportunities for local companies.

And last, but not the least, the sale would see the introduction of newer financial products including options/derivatives which the country lacks in a big way.

A derivative/option performs a similar function like that of a stock. However, they carry high risk of investment and demand traders to gather a lot of information about the particular option they want to trade in. Derivative's price is derived from one or more underlying assets. It is itself a contract between two or more parties based upon the asset or assets. Its value is determined by fluctuations in the underlying asset.

In January 2015, three local bourses namely Karachi Stock Exchange, Islamabad Stock Exchange and Lahore Stock Exchange were merged into the Pakistan Stock Exchange.

Published in The Express Tribune, December 23rd, 2016.

Like Business on Facebook, follow @TribuneBiz on Twitter to stay informed and join in the conversation.
COMMENTS (5)
Comments are moderated and generally will be posted if they are on-topic and not abusive.
For more information, please see our Comments FAQ