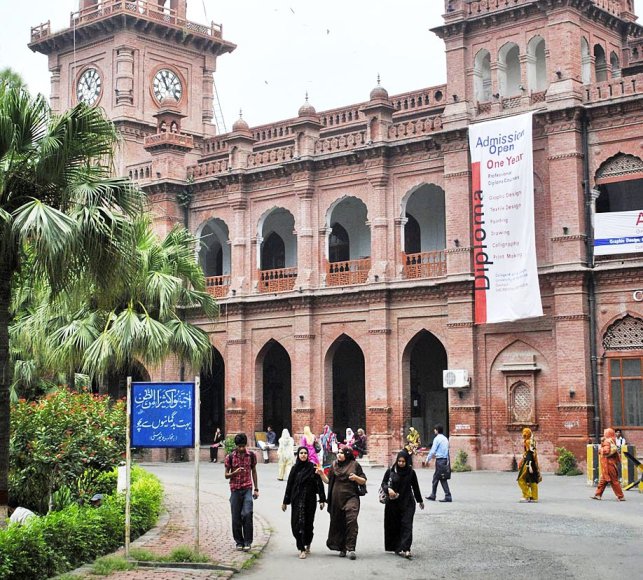 ---
LAHORE: Chaos and confusion reigns over Punjab University after a Lahore High Court order replaced acting vice chancellor Professor Dr Mujahid Kamran with Dr Zafar Mueen Nasar. The Express Tribune has learnt that the failure to issue a notification to this effect has left the varsity in an administrative void.

On Monday, the LHC directed the government to appoint acting vice chancellors at four public sector universities after removing individuals currently occupying those positions. A division bench, headed by Justice Mansoor Ali Shah, ordered the provisional appointment of Dr Ishtiaq Ahmed, Dr Mohammad Zubair, Dr Zafar Mueen Nasar and Dr Rukhsana Kausar as acting vice chancellors of University of Sargodha, Muhammad Nawaz Sharif University of Engineering and Technology in Multan, Punjab University and the Lahore College for Women University, respectively.




The administration and teachers of the Punjab University are left confused over the running of affairs in the wake of the court decision, while day-to-day workings are also crippled due to the Higher Education Department's (HED's) failure to inform the university administration.  The crisis has led to an indefinite delay of the university's 125th convocation.

Talking to The Express Tribune, Punjab University Academic Staff Association (ASA) Secretary Dr Mahboob Hussain said there was confusion amid teachers as the institute practically has no vice chancellor. "After the judgment, there are two vice chancellors of the university. However, Dr Mujahid Kamran had not been removed by the HED and Dr Mueen Zafar has not been notified to take office. This confusion caused by authorities has led to administrative problems at the varsity."

When contacted, Punjab University's Spokesperson Khurram Shahzad said the institute has not received any notification by the provincial government. When asked about the administrative problems and delay in the convocation, he said the occasion was scheduled for Saturday, December 24, 2016. However, it was postponed due to administrative reasons. He said a new date would be announced later, but did not confirm a specific time.

An HED official, seeking anonymity, told The Express Tribune that the department was waiting for a certified copy from the LHC after which it would issue notifications for the new acting vice chancellors.

Punjab Minister for Higher Education Syed Raza Ali Gillani and HED Secretary Nasim Nawaz were contacted several times on Tuesday and Wednesday, but did not respond to requests for comments on when the new acting vice chancellors would be notified by the department.

Published in The Express Tribune, December 22nd, 2016.
COMMENTS
Comments are moderated and generally will be posted if they are on-topic and not abusive.
For more information, please see our Comments FAQ