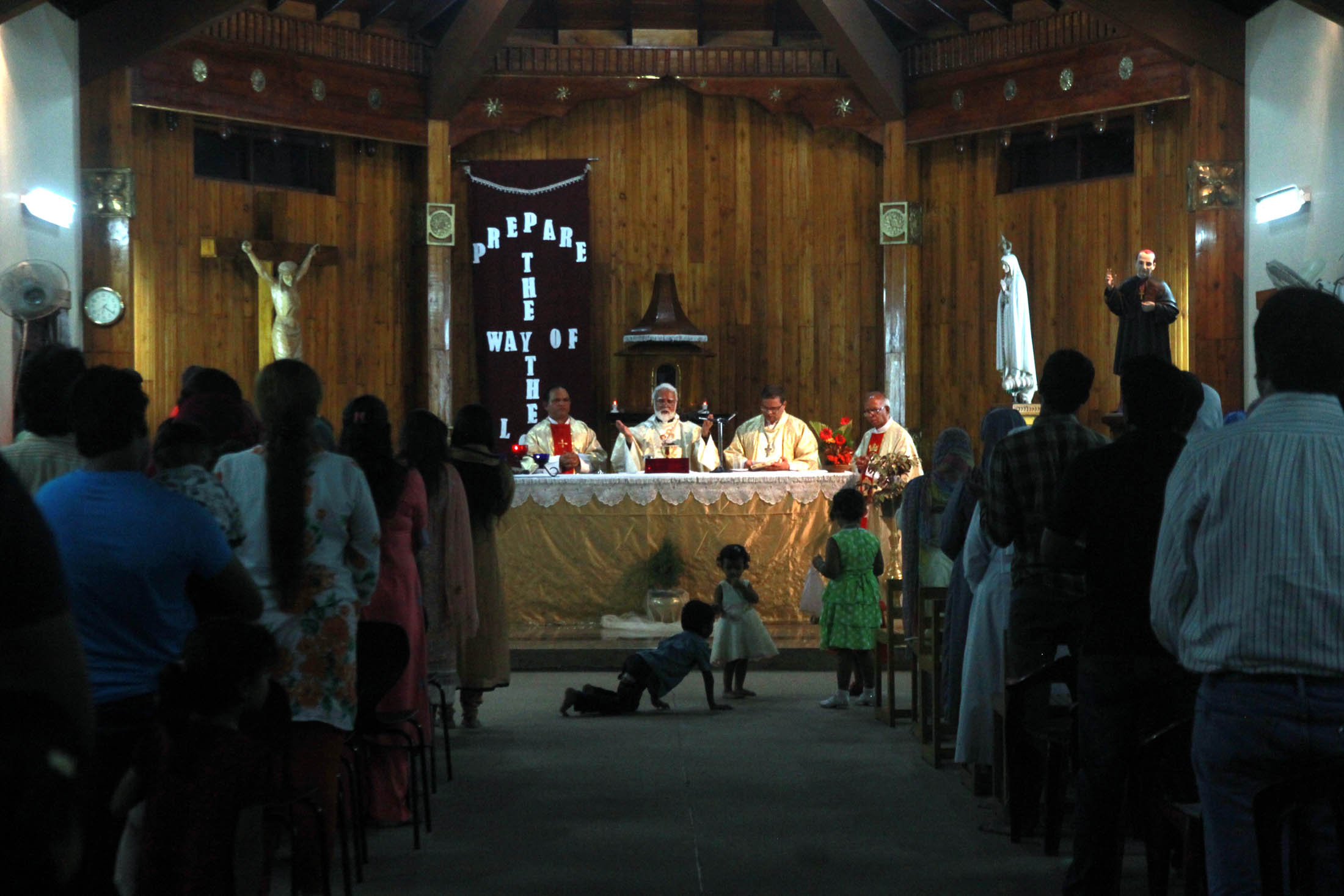 ---
COLOMBO: A Sunday mass is under way at a small chapel in the western Sri Lankan city of Negombo. The building is decked out in multicoloured bunting for Christmas. Interestingly, the worshippers are singing hymns and psalms, not in Sinhalese, not in Tamil, not in any other dialect of the island nation, but in Urdu.

Four Catholic bishops visiting from Pakistan are leading the mass for the families of the Christian asylum-seekers from Punjab and Sindh. These families have been in limbo since they landed in Sri Lanka years ago.

Pakistanis increasingly seeking asylum abroad

"We have been living here for 10 years. Life is as difficult as it had been
for the Israelites who had fled the atrocities of the pharaoh in Egypt," 50-year-old Fernandes tells The Express Tribune.




Fernandes, his wife and two young sons had left their hometown of Karachi to escape harassment by activists of a powerful political group. These asylum-seekers refuse to divulge their real identities for two reasons: 1.) this might risk the lives of their relatives back home; 2.) and this could affect their asylum claims.




Fernandes once ran a small company that offered services of male and female nurses to patients at their homes. In 2006, a female nurse of his company was allegedly raped  by a senior government officer, who later on started harassing Fernandes, compelling him to flee the country.

The breathtaking natural beauty of the idyllic island nation attracts tourists from across the world who come to see its lush-green mountains, calm and unspoiled beaches, gigantic statues of Buddha, Gothic-style cathedrals, saffron-clad Buddhist monks, and unique flora and fauna.

For Pakistani asylum-seekers, however, life here is a bitter experience. They are jobless and have no access to healthcare and educational facilities. They live on alms and depend on charities for daily meals.

The United Nations High Commissioner for Refugees in Colombo has turned down the asylum request of the Fernandes family, doubting their claim of persecution back home.

"We appealed against the rejection, but nothing has happened so far. Now, we all live in hiding," says Fernandes. "The future looks bleak and uncertain as the migration and subsequent denial of asylum requests has spoilt the education of my two sons."




The exodus of Christians increased after Pakistan joined the US-led war on terrorism which was described by some as a 'crusade'.  Sri Lanka and Thailand are the two Asian destinations where members of the Pakistani religious minorities are fleeing to due to 'social imbalances, discrimination and intolerance in their country'.

Pakistani, Afghani asylum seekers fuel Germany cricket boom

Around 300 Christians, including 200 claimants of asylum contesting the rejection of their claims, are living a destitute life in despair in Negombo.

After the mass, the bishops meet the frustrated migrant families in the packed hall. They try to console the asylum-seekers and explain to them the legal and diplomatic complexities involved in the process.

Sri Lanka enjoys good relations with Pakistan which helped the island nation stamp out the two decade-long insurgency by the Liberation Tigers of Tamil Elam, according to officials and journalists.

However last year, Colombo stopped issuing on-arrival visas to Pakistani nationals arguing that many asylum-seekers disguised as tourists misused this facility. But political observers say Sri Lanka buckled under India's pressure in order to counter Islamabad's influence. Nearly 200 illegal immigrants have forcibly been deported.

Sliver of hope

At the post-mass meeting, the migrants ask the bishops to request the European countries and the United States to grant them asylum on religious grounds as Sri Lanka is unwilling to accept them as refugees.

"Look at these letters issued by the churches in Karachi. Sri Lankan officials refuse to accept these letters as evidence. If these letters hold no importance, then what else will?" *Rebecca William asks the bishops.

"Life is difficult here. We cannot go to hospital, our children cannot go to school, and we're denied jobs," the angry mother tells The Express Tribune. One of her sons had survived an armed attack in Karachi and joined Rebecca days later. Currently, he is kept in a detention centre run by the UNHCR in Sri Lanka for overstaying after the expiry of visa and rejection of asylum request.

Rebecca was associated with a non-profit organisation that worked for special children. "I have one piece of advice for you," the 50-year-old mother tells The Express Tribune. "Think of yourself first before thinking for others. I spent my life serving special children, but today no one is willing to help my children," she adds.

The migrants who have submitted their asylum claims receive a measly monthly maintenance allowance from the UNHCR, but others, whose claims have been rejected, can only survive on assistance coming from non-profit organisations.

"How can we rent a house for at least Rs25,000 a month? How can we buy meals when we are not allowed to work?" adds the frustrated mother, whose young girl and sons sit idle at home.

The bishops are sceptical. "The Sri Lankan authorities have stopped deporting people. We are thankful to them," one bishop tells The Express Tribune requesting anonymity. "Definitely, we'll do whatever we can, but the procedures take time and the families do not understand because they are in distress," he adds.

En-route Europe

Under the procedure, the UNHCR requests different countries to accept the migrants who have successfully proven their case for asylum and have obtained 'refugee status'.

Many Christians complain that nearly 200 members of a particular Pakistani religious community group living in Sri Lanka left for the US, where churches have come forward to accommodate them.

"But, we Christians are being neglected by everyone. This is frustrating," says a human rights activist who has been granted 'refugee status' by the UNHCR.

The activist, who wished not to be identified by name, had left his hometown of Lahore due to threats. After spending three years oscillating between hope and despair, his family has finally been accepted by the US.

"I'm happy that we will settle in the United States, but I foresee more challenges ahead," he says. "I'm not as young as I was when we arrived here. I'll have to work hard to earn a living for my family."

(Names have been changed to protect the identities of asylum-seekers)

Published in The Express Tribune, December 19th, 2016.