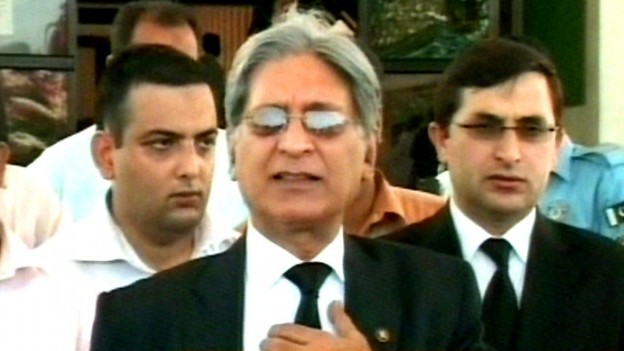 ---
ISLAMABAD: Former president of the Supreme Court Bar Association (SCBA) Chaudhary Aitzaz Ahsan on Wednesday rejected speculations regarding former president Pervez Musharraf returning to the country, and said that he will never return to Pakistan.

Speaking to the media outside the Supreme Court, Aitzaz Ahsan said that the former president will have to face the charges levelled against him if he returns.

On the topic of Swiss cases, he noted that President Asif Ali Zardari enjoys immunity. He said that the Swiss courts will not reopen the cases as the head of the state can not be tried.

Commenting on the UN report on Benazir's assassination, Aitzaz Ahsan said that it failed to produce any result. He said that there must be an independent inquiry and all those responsible in any way should be questioned.
COMMENTS (11)
Comments are moderated and generally will be posted if they are on-topic and not abusive.
For more information, please see our Comments FAQ