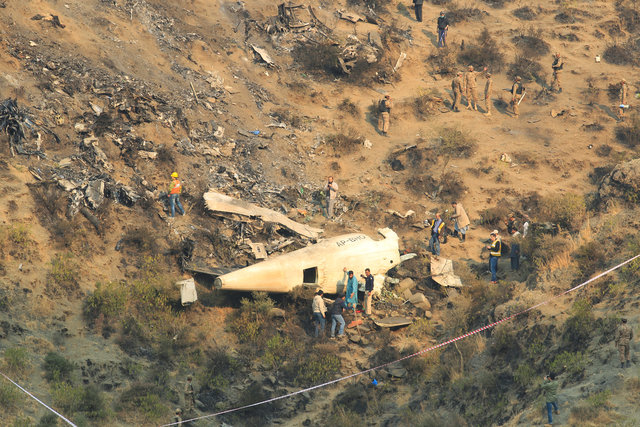 ---
ABBOTTABAD: The family of a Chinese national, who lost his life when PK-661 crashed in Havelian, visited the site of the crash on Sunday, police sources said.

Chinese national Qiang Han was among the 47 people aboard the Pakistan International Airline's (PIA) ATR-42 which had crashed into a hillside in Havelian on Wednesday afternoon. There were no survivors.

On Sunday, DSP Havelian Khursheed Khan Tanoli said that four of Han's relatives visited the crash site on Gagan Hills near Batolni village in Havelian Tehsil.

He added that moving scenes were witnessed as Han's family members lit candles and performed religious rites for the departed soul in the hour-long ceremony.

Debris of crashed plane remains strewn all over Gagan Hills for the fourth consecutive day as investigators continue to pour over site. A team from Avions de Transport Régional (ATR), the French manufacturers of the crashed plane, are also expected to visit the site over the next few days.

Local investigators had already launched their probe from Thursday, a day after the crash.

Disaster tourism

Four days after the crash, hundreds of people from different areas continued to throng the crash site to look at the remains of the ill-fated PIA plane.

Many of the visitors were seen crying after looking at the mangled debris strewn over the hillside.

"The responsibility of this tragic crash lies with Prime Minister Nawaz Sharif and the management of PIA which failed to ensure safety of passengers," said Wazir Muhammad, a resident of Rawalpindi who had travelled to Havelian just to catch a glimpse of the carnage. He said that despite repeated incidents and loss of precious lives, the government should have taken steps to implement international standards. Unfortunately, that never happened.

Muhammad added that the Havelian plane crash had deprived the country of a national icon like Junaid Jamshed and justice to the bereaved families could only be done once   those responsible for the tragedy  are brought to book.

Published in The Express Tribune, December 12th, 2016.
COMMENTS (1)
Comments are moderated and generally will be posted if they are on-topic and not abusive.
For more information, please see our Comments FAQ