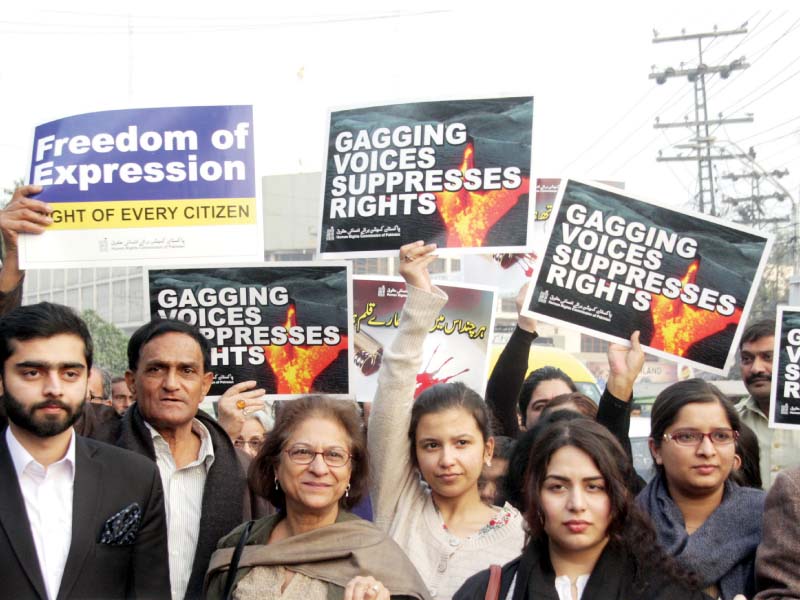 ---
LAHORE: Rights activists, lawyers and media experts on Saturday stressed the need for right to information and press and freedom of expression on International Human Rights Day.

The Human Rights Commission of Pakistan organised a seminar titled 'No Rights without Right to Freedom of Expression' to mark the international day to raise awareness about free speech.

The prevailing state of freedom of expression in Pakistan should be of great concern for citizens, not just on the human rights day but all year round as suppression of freedom of expression compromises enjoyment of human rights for everyone, not merely for the media or for the larger civil society, the speakers argued.

HRCP Secretary-General IA Rehman said a part of Pakistan was separated on December 16, 1971 because of circumstances that were kept hidden from the people of Pakistan. "Wherever information is controlled and kept hidden, such big incidents take place," he said.

He contended new laws and codes like the cyber crime act and the Pemra's code of conduct were made to control freedom of expression.

"Seventy percent journalists in Northern Areas have stopped working or migrated from those areas. Journalists in Balochistan are also under threat," he added. "If someone does not have the right to information, he cannot have freedom of expression."

Rehman said a few days ago, police raided the headquarters of the Ahmadiyya community but no media outlet carried the news. "They say Pakistan is a dangerous place for women and religious minorities, it was the need of the hour to know for whom this country is safe for?"

The renowned activist said right to information was not the problem of journalists alone but that of every citizen. "We should not compromise on anything less access to information," he added.

Dr Mehdi Hassan said there were so many historic incidents, the reality of which people knew nothing. He said there were 110 news channels in the country that continued speaking round the clock on 'non-issues'.

"For good governance, it is necessary to keep the people well-informed," he said, adding lack of gate-keeping at television channels allowed unnecessary content to go on air.

Hassan argued the media enjoyed more liberty 20 years ago than now. "Editor or chief reporter cannot take decisions which they used to take 20 years back," he said. "The social responsibility theory is applicable on media in developed countries but not in Pakistan."

Acclaimed lawyer Asma Jahangir said Pemra was functioning like a supervisory body instead of a regulatory body.

"A few years ago, journalists used to talk with their owners for their rights. They used to move courts against their owners for provision of wage board awards," she said.

Asma contended through contempt of court, freedom of expressions has been controlled as well. "Supreme Court or any other courts are not above criticism," she said. "Courts instead of stressing upon provision of basic rights are stressing upon provision of restrictions."

Asma said it was the need of the hour to be proactive to participate in the war for provision of right to information and freedom of expression.

Published in The Express Tribune, December 11th, 2016.