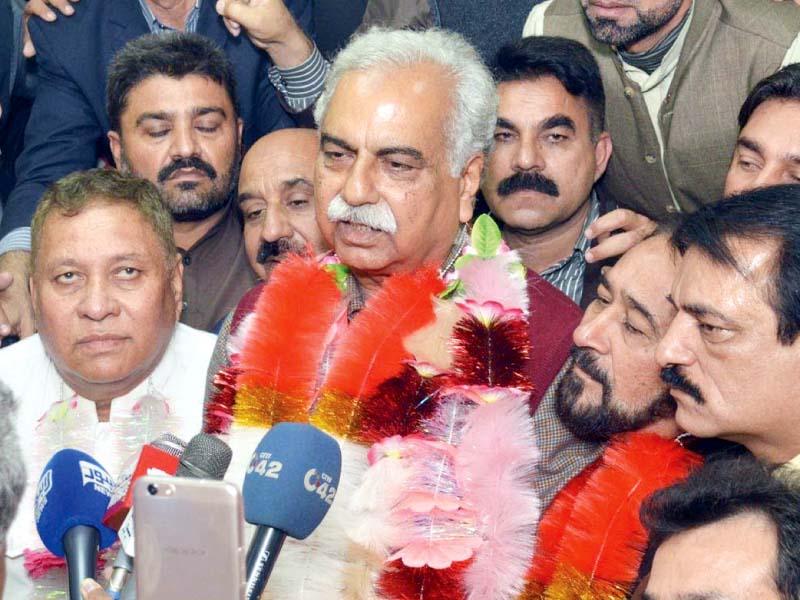 ---
LAHORE: The ruling party-backed Col (retd) Mubashir Javaid was elected unopposed as Lahore's mayor on Saturday after the Election Commission of Pakistan (ECP) rejected opposition Pakistan Tahreek-e-Insaf (PTI)'s candidature.
The PTI had failed to complete its panel.

Pakistan Muslim League-Nawaz (PML-N) and PTI nominated candidates for the mayoral election, which was scheduled to be held on December 22. On the PML-N ticket were Colonel Mubashir and Wasim Qadir, while PTI backed Afeef Siddiqui.

However, after the candidates of the opposition were rejected, Wasim Qadir withdrew his nomination papers in favour of Mubashir as the former had also submitted his candidature for a deputy mayor slot. He announced he would prefer to work with Mubashir as part of the mayor's team.

After winning the elections, Mubashir, who is a member of the Evacuee Property Trust and administrator at PML-N, spoke to the media. He vowed to serve the people of Lahore as per their wishes and under the guidance of his party's leadership. He said his primary objective would be to improve water supply and sanitation conditions in the provincial capital.

Mubashir, who was elected to the Metropolitan Corporation of Lahore (MCL) on a reserved seat for technocrats, has strong ties with National Assembly Speaker Sardar Ayaz Saddiq and MNA Mohammad Pervaiz Malik among the party circles. Prime Minister Muhammad Nawaz Sharif had chosen his name for Lahore's lord mayor0ship after a detailed interview last week.

Bilal Chaudhry, Haji Allah Rakha, Ijaz Hafeez, Mehr Mahmood, Mian Tariq, Mushtaq Mughal, Nazeer Swati, Rao Shahabuddi and Wasim Qadir were also been elected unopposed as deputy mayors. There are a total nine positions of deputy mayors in the MCL.

Earlier, the PML-N considered Khawaja Ahmad Hassaan for the Lahore mayor's office, but his name was later dropped due to his existing responsibilities related to development work in the city.

After winning the election, Mubashir visited the Data Gunj Buksh shrine to pay homage to the Sufi saint.

Critics believe the job may be a bumpy ride for Mubashir as the provincial administration has left little room for the local government to perform. New local governments have no financial autonomy and say in development works.

On the day he was elected, a petition challenging the eligibility of Mubashir was also filed at the Lahore High Court. The ruling party has 228 seats out of 274 seats at the MCL, while PTI has just 10.

Published in The Express Tribune, December 11th, 2016.