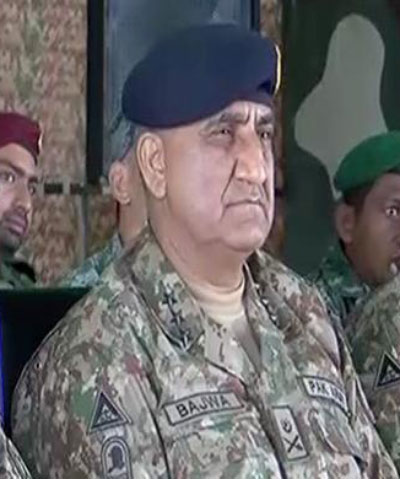 ---
ISLAMABAD: Army chief General Qamar Javed Bajwa on Friday appointed two more new corps commanders and promoted seven major generals, including the incumbent director general of Sindh Rangers Bilal Akbar, to the rank of lieutenant general.

According to Inter-Services Public Relations (ISPR), Lt-Gen Nadeem Raza has been appointed Commander 10 Corps, giving him the charge of the army's formation responsible for security along the Line of Control. He was among the seven major generals who were promoted earlier in the day.

Lt Gen Raza replaced Lt Gen Zafar Iqbal, who in turn has been posted as the Director General Joint Staff (DGJS) at the Joint Staff Headquarters (JSHQ).

Gen Qamar also appointed Lt Gen Sarfraz Sattar as Commander 2 Corps, Multan, a post previously held by Lt Gen Ishfaq Nadeem Ahmad who was one of the five generals considered for army chief.

The six major generals who were promoted on Friday are: Lt-Gen Humayun Aziz, who was working as DG Welfare and Rehabilitation at General Headquarters (GHQ); Lt Gen Naeem Ashraf who is presently posted at the National Defence University; Lt Gen Muhammad Afzal, presently working as DG Frontier Works Organisation: Lt Gen Sher Afgun, presently working as  Inspector General Frontier Corps Balochistan; Lt Gen Qazi Ikram, who was working as DG Personnel Services at GHQ; and Lt Gen Bilal Akbar, who is presently working as  DG Rangers Sindh.


From top left: Maj Gen Bilal Akbar, Maj Gen Humayun Aziz, Maj Gen Muhammad Afzal, Maj Gen Nadeem Raza, Maj Gen Sher Afgun, Maj Gen Qazi Muhammad Ikram Ahmad and  Maj Gen Naeem Ashraf. PHOTOS: ISPR

On Wednesday, the army chief appointed Lt Gen Shahid Baig Mirza as the new Corps Commander Karachi, replacing Lt Gen Naveed Mukhtar who held the key post for the past two years. Lt-Gen Mirza had earlier been serving as the military secretary at the GHQ. Lt Gen Ghayur Mehmood, who had been serving as the Chief of Logistics Staff at the GHQ, will replace him in that post.

Army chief visits ISI HQ

Gen Qamar also visited the headquarters of the Inter-Services Intelligence (ISI) in Islamabad on Friday. According to ISPR, he received a detailed briefing on the country's internal and external security situation and ISI's role towards strengthening national security, including its efforts in countering terrorism.

"Gen Qamar expressed his complete satisfaction and lauded the contributions and sacrifices of officers and men of the country's premier intelligence agency towards strengthening national defence and security," ISPR said after the visit.

Earlier on arrival at the ISI HQ, Gen Qamar was received by DG ISI Lt Gen Rizwan Akhtar. The army chief also laid a floral wreath at the Yadgar-e-Shuhada to pay homage to ISI martyrs.

Published in The Express Tribune, December 10th, 2016.