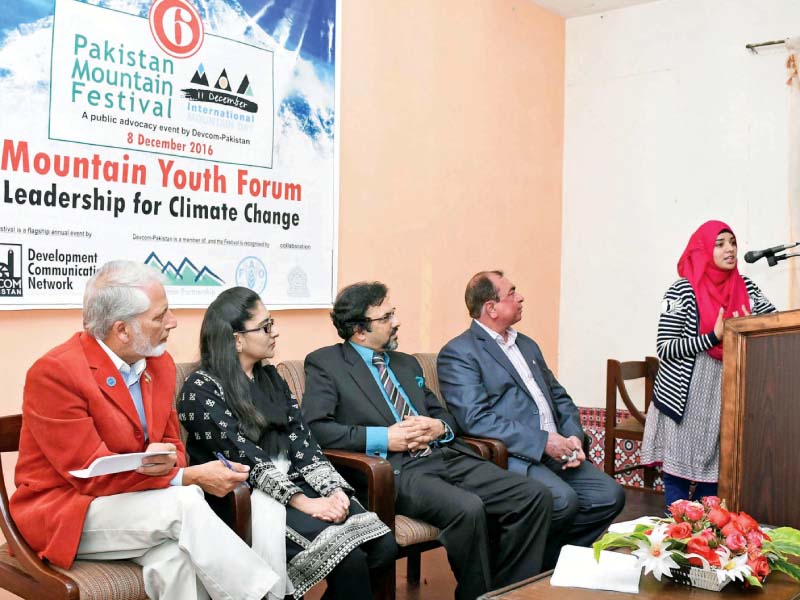 ---
RAWALPINDI: While people living higher up in the mountains have already been suffering from the impact of climate change, the next generation would face its full wrath.

This was stated by speakers at a Mountain Youth Forum in Rawalpindi on Thursday.

The forum had been organised by Development Communications Network (Devcom-Pakistan) in collaboration with the Rawalpindi Arts Council.

Pakistan Mountain Festival Director and the Executive Director Devcom-Pakistan Munir Ahmed said that rampant deforestation by the timber cartels and housing mafia coupled with increasing consumerism and overuse of environment unfriendly vehicles and home appliances had increased the carbon foot print in the country.

He added that youth hailing from the mountainous region needed to realise their responsibility of raising their voice against exploitation of natural resources.

Ahmed urged them to reach out to the mainstream media with evidence against loggers and developers and to share research-based stories of victims of the climate change in these areas.

Even the smallest action has its own impact and may lead to a bigger change he stated.

the Mountain Youth Forum late Thursday evening. The forum was organised by the NGO in collaboration with the Rawalpindi Arts Council. The other speakers of at the event were Sanaullah Aman, the Executive Director General, Dr Anjum Rasheed, Centre for Climate Research, Comsats Institute of Information Technology (CIIT), Zaheeruddin Khwaja, the environmentalist. The university students including Saeed Gohar, Muazzam Ali and Falak Naaz also spoke on the occasion.

Capital Development Authority Training Academy Sanaullah Aman urged the youth to explore their potential for leading community based actions. Everyone can play their role as an agent of change he said, adding that youngsters who are educated have added responsibility to work for the betterment of their respective communities.

Plan an action agenda for yourself, and identify the like-minded colleagues and co-workers to implement it. It will boost your soul satisfaction and bring a positive change not on ground but in you as well.

Dr Anjum Rasheed of the Centre for Climate Research at Comsats Institute of Information Technology (CIIT), highlighted the impact of climate change and said that larger carbon footprint and increased deforestation had made the world vulnerable, with the mountain communities the worst affected.

Dr Rasheed referred to the flash floods in Chitral last year, creation of Attaabad lake, rapid melting of glaciers as examples of climate change.

She said we need to reduce the greenhouse gas emissions and increase forest cover. Communities, she said, can play their very role in raising their voice against the deforestation by cartels and by active participation in the afforestation.

Published in The Express Tribune, December 10th, 2016.